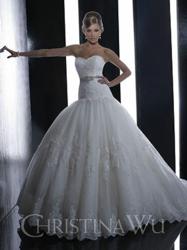 Christina Wu a popular choice among brides at the bridal showcases.
Dallas, TX (PRWEB) December 02, 2012
Christina Wu is pleased to announce recent successful showcases in the bridal arena. Hosted by the following authorized retailers during this fall season, trunk show events featuring Christina Wu collection of wedding dresses have been a big hit among attendees:

Reflections: Harrisonburg, VA, 10/5-10/7.
Terry Costa: Dallas, TX, 10/26-10/28.
Mestad's: Rochester, MN 11/16-11/18.
Popular choices among brides at these showcases include such Christina Wu wedding dress styles as 15508 (pictured), 15493, 15494, Jacquelin Bridals styles 19913, 19921, and 19923. Christina Wu also announces that enthusiastic interest is growing in the Cara Mia collection bridal gowns for plus-size fashionistas, offered in women's sizes 14W-28W. These and other breathtaking gowns can be browsed at http://www.christinawu.net or contact the authorized retailer found under the store locator for more information on upcoming showcases.