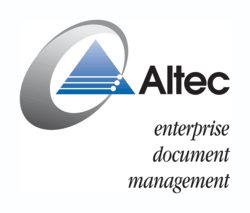 Laguna Hills, CA (PRWEB) December 05, 2012
Altec Products, Inc., a leader in enterprise document management and workflow solutions, announce their sponsorship and participation at today's special one-day event for Sage customers and partners at Andrei's restaurant in Irvine, CA on December 5, 2012. The event runs from 8:30 am – 1:30 pm and contains a full line-up of content-rich sessions presented by Sage and select ISV's (Independent Software Vendors) and Development Partners, each with a proven track record of integrating their solution with Sage ERP products. Special Guest Tom Miller, Sage North America's VP of Channel Management will provide a special message during the hosted lunch.
The event organizer, Website Pipeline, Inc., has coordinated a group of Sage ISV's to present information on Ecommerce, Payment Processing, Shipping, Document Management, Workflow and Sales Tax Services, with ample opportunity to network with presenters and ask questions.
Brian Nunes, Marketing Director for Website Pipeline states, "We wanted to create a local event where Southern California customers don't have to travel, partners have visibility, Sage shares 2013 vision, and the ISV's are able to educate on their integrated solutions. This is a win-win for all in the Sage community."
Altec, as an endorsed Sage ISV, is the expert in the design and delivery of electronic document solutions ranging from simple document intensive processes to complex restructuring of internal data processing. Altec's Sales Director, Richard Simmons, will demonstrate how Sage ERP Document Management helps companies go paperless and work leaner, faster and more effectively in their accounting and business processes. It provides seamless capabilities to electronically capture documents and automate business processes within any department and any process. Combining best practices, state-of-the-art technology, and sound implementation methods into an affordable package has made it a leading Sage solution.
Altec's Director of Sales, Kevin Dudevoir, states, "We look forward to the collaborative energy that comes from networking at these Sage events. The customer and partner relationships being developed through these roadshows are so valuable. We are passionate about helping businesses work smarter and allow technology to solve their current business process challenges."
The $99 registration fee will be waived for Sage customers and partners who register using the promo code ALTEC. To register for this event: http://www.erproadshows.com.
The Sponsors of the event are:
Sage North America
Website Pipeline, Inc.
Sage Payment Solutions
VineyardSoft Corporation
V-Technologies
Avalara
Altec
About Altec
Altec is a leading provider of Integrated Document Management (IDM) solutions to mid-market companies. For more than 25 years, Altec has provided a wide range of accounting-centric paper to paperless solutions including its flagship product, doc-link™, which enables companies to capture, archive, workflow and route structured and unstructured documents to customers, employees and vendors. Altec's comprehensive solutions include IDM, output management, MICR check disbursement and paper documents that serve more than 13,000 customers worldwide. Altec enjoys strong, collaborative partnerships with ERP solution providers like Sage to provide the most comprehensive, integrated enterprise document management solution. Altec delivers its IDM solutions through a global network of authorized partners in more than 60 countries throughout the Americas, EMEA and Asia Pacific. For more information, visit Altec at the company website at http://www.altec-inc.com. Follow them on Twitter.com/doclinkbyAltec or call April Blankenship at 1-800-997-9921.