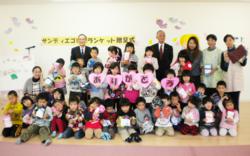 It is crucial that Children of these disasters not be forgotten. They need ongoing emotional support, counseling, and to find moments of happiness which leads to hope for their futures
San Diego, CA (PRWEB) December 01, 2012
A new non-profit organization is starting to help children that may have been forgotten! The Devastating Earthquake and Tsunami in Japan happened over one year ago. We live in a world where a new disaster makes another old-news. That is of little solace to many of the children of Ishinomaki, a city that was acutely ravaged by last year's devastating 9.0 earthquake and resulting tsunami. The are still affected, and still need support.
Fast forward a year later, and we hope that things are better. But hope is not always enough. In fact, many of the children most affected, feel very little hope at all. Many have lost their most significant loved ones, some are still homeless, and almost all have lost many of the simplest things that are required to bring a smile.
Megumi Kikuchi Michael, a Japanese resident in the U.S., is doing something about it. Mrs. Michael recently returned from a trip to Ishinomaki, a city where the Tsunami destroyed much of the area, with buildings and infrastructure completely wiped away. The Mayor and Director of Child Welfare provided a tour, and introduced her to a city sponsored child care facility which was built after the disaster. In her travels, Mrs. Michael saw that supplying the basics of survival, while crucial, is not enough. "It is crucial that Children of these disasters not be forgotten. They need ongoing emotional support, counseling, and to find moments of happiness which leads to hope for their futures".
Mrs. Michael decided that there is much to be done. She is starting a non-profit called One Heart One Child. "An organized effort is needed to fill the gap between necessities and the emotional support required to Children around the world who have been affected by major disasters"
As a start, American families volunteered to make hundreds of comfort blankets for the Ishinomaki kids. Beanie babies were hand made here in America for the younger children, and other items like food and candy were gathered. Ms. Kikuchi brought these items to the Children in Ishinomaki. On her return, she announced "It was the greatest feeling to see Children that have gone through so much hardship, light up and smile from something so small. It is our hope and mission that the next step bring hearts around the world together, to bring smiles and happiness back into Children's lives."
In the future, she is hoping that One Heart One Child can provide:

More comfort blankets & toys to affected children
Arranging for therapists to travel to affected areas, to provide PTSD support.
Creating a group of volunteers that will provide enjoyable activities with the children.
Creating art therapy programs, and therapy animal visits.
Inviting Children from affected areas to travel to America, to stay and play with American children
"It is up to all of us to remember that there are children in the world in need, and we are going to work hard to provide as much as we can for their futures and emotional well-being!
For more information, and to watch the progress as One Heart One Child goes out into the world to assist Children in need, please visit OneHeartOneChild.org