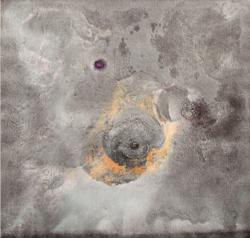 I paint to harmonize my inner self with an ever-expanding force that weaves everything into one being."
San Francisco, CA (PRWEB) December 03, 2012
Bobak Etminani has spent the last twenty years exploring the majestic beauty hidden within the essence of existence, integrating into his work the view points of modern physics and ancient wisdom about the cosmos. By allowing his paintings to be the continuation of the Universe, Etminani has reached a unique and refreshing pictorial space. Of his work, Etminani says: "I paint to harmonize my inner self with an ever-expanding force that weaves everything into one being."
"The unique paintings of Bobak Etminani give those of us in the West a glimpse into a cultural tradition thousands of years old and shaken to its roots by the globalization of contemporary art. Widely acclaimed in Iran where he has taught and lived for the past decade, this successful artist has created an exciting blend consisting of raw, physical energy of Abstract Expressionism, a calligraphic and ornamental use of the medium, and the contemplative penetration of the inner self as found in Sufi mysticism. Almost hypnotic in their structural simplicity, Mr. Etminani's paintings are both highly personal and universally appealing in their spiritual content." Larry McClary, Professor of Fine Art at the California College of Arts and Crafts, 2002.
Born in Tehran in 1957, Etminani was educated in the United States where he received an MFA from the California College of the Arts in 1991. In 1992, he returned to Tehran where he founded the Shiveh Painting and Drawing Studios. In addition to being a prominent and inspiring artist, Etminani has been teaching art for twenty years in several major universities in Tehran. In 2006, he won First Prize at the 4th International Biennial of the Islamic world, Tehran, Iran.
Bobek Etminani will be showing his "Grey Paintings" collection at Art People Gallery from February 1st-15th, 2013. The opening reception is scheduled for Thursday, February 7th from 4-7pm.
For more information about Bobak Etminani, please contact Art People Gallery.
ABOUT ART PEOPLE GALLERY
Art People Gallery, a premier San Francisco art gallery, is located in the Crocker Galleria, 50 Post St., in the heart of the financial district, near Union Square's exclusive shopping area, close to the MOMA and the Jewish Museum. Art People is a full service gallery installation.
Art People Gallery is open Mondays through Fridays 10am-6pm, and on Saturdays from 11am-5pm. For more information, contact Ali Meamar at (415) 956-3650 or at info(at)artpeople(dot)net. You can also become a follower of Art People Gallery's Facebook page.