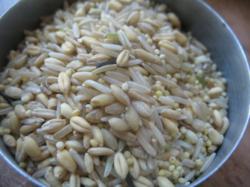 By delivering new revenue from product that used to be waste, grocers can "increase profitability
Three Rivers, MI (PRWEB) December 10, 2012
The American food chain, from the farmer to the grocery store to the refrigerator, wastes 40 percent of all food produced. If we were able to reduce our food waste by 15 percent, we could feed 25 million more people each year. Source: Natural Resources Defense Council (NRDC)
In today's modern culture there is rampant growth in awareness among the average consumer about the quality of the foods they're buying. Nanette Cameron, R.D. states, "More consumers today are reading every label, they're counting the number of grams of protein, and they're seeking out products that are 100% whole grain. Consumers are demanding fresher, healthier, more natural, safer products." Americans are also a society of convenience, totally dependent on drive-thru, ready-to-eat, micro-wave oven speed. So grocers are working to give them the freshest, prepared, ready-to-eat food, but that comes at a cost – up to 40% waste.
It is now apparent that the grocers need a solution to deliver the freshest, safest, whole prepared foods while reducing waste. All Natural Freshness announces an innovative end-to-end high pressure processing solution pre-packaging High Pressure Processing solution that will enable grocers to capitalize on the waste reduction benefits of HPP without completely retooling their packaging line. "The true value in a pre-packaging HPP solution for grocers will be realized in the ability to utilize existing packaging infrastructure and avoid potentially costly manufacturing facility reconfiguration while implementing new technology," states Gerald Ludwick, CEO of All Natural Freshness. Grocers do their part by taking every precaution possible to prevent spoil out; from installing rooms with positive air pressure to cleaning food prep facilities every 2 hours. National grocers in the U.S. are in an age old industry that has matured rapidly over the recent years and they have the data and the technology to manage every ounce of fresh processed product through every step of their supply chain. Gerald Ludwick, CEO of All Natural Freshness comments, " High Pressure Processing is a cold water ultra-high pressure based technology that can drastically extend the shelf-life of totally fresh products. In High Pressure Pasteurization all natural food products are submerged, in water and then subjected to incredible water pressure. Under the intense pressure the spoilage microbes are drastically reduced. The end result is a shelf life extension of between 2x and 3x the shelf life of the product in its natural state." Further, Mr. Ludwick provides an example, "If a fresh product, while properly packaged and refrigerated, is pleasing to eat and safe for 14 days; then that same product after High Pressure Processing could last for 28, or even up to 42 days."
"The largest contributor to the waste that national grocers are experiencing is due to the need to educate their customer of the shelf life of the product," states Eric Lockovitch, Midland Food Packaging. Mr. Lockovich further explains, "Grocers place a "Best if Used By (or Before)" date on each of the products. This date is recommended for best flavor or quality. The intent of the date is to assure that the customer has a great experience when they eat the products". The complexity of managing inventory balanced with consumer demand while simultaneously trying to deliver a totally fresh product is what leads to the shrink or spoilage of product at retail, which must be thrown out and written off as waste.
By implementing High Pressure Pasteurisation into their supply chain and processing totally fresh prepared products; grocers can extend the shelf life of these products by 2x – 3x their natural shelf life. That kind of shelf life extension can reduce waste, shrink, and spoil out by up to 83%. An operation that was previously experiencing a 30% product shrink at retail, may reduce that down to 5%. Shelf life extension gives them extensive control over their fresh food supply chain and provides a huge opportunity to reduce that waste at retail. Jon Jurhs, Vice President of Business Development at All Natural Freshness states, "HPP truly delivers a return on investment multiplier effect when you utilize HPP in conjunction with our Patented end to end solutions. Follow this now; by reducing waste, the grocer can remove extensive "expense" from their books by drastically decreasing spoil out. By extending shelf life grocers can now "sell" product that would have been previously been expensed out, which creates "new revenue."