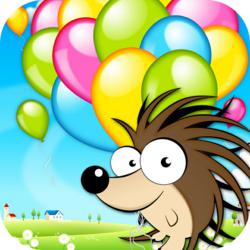 Fun, addictive game in time for Christmas holidays
Brisbane, QLD (PRWEB) December 18, 2012
Shona Enterprises is proud to present a new kids' iPhone/iPad game Lead Balloon, now available on the App Store.
Coinciding with the Christmas holidays, Lead Balloon is a new iPhone/iPad game available to all enthusiastic gamers. Keep the balloons up in the air by tapping them and preventing them from hitting the ground and bursting. Lead Balloon is a digital adaptation of a real life game commonly played by children all over the world. Lead Balloon is a challenging and fun game that also provides visual processing and hand eye coordination skills.
This dynamic game exhibits a number of levels, each one harder and faster than the one before. Each level displays a different ground covering including; cacti, tacks and hedgehogs, which aim to burst the balloons and also add to the fun. Angry faced 'lead balloons' will fall swiftly at random and disrupt the balloons. If tapped before it hits the ground, the balloon will pop and gain the player bonus points.
For more information refer to http://www.lead-balloon.com
Lead Balloon is a new and exciting kids' iPhone/iPad game now available on the App Store. Free promo codes are available on request.
About Shona Enterprises
Shona Enterprises is a new individually owned company based in Brisbane. Lead Balloon is their first venture into the App gaming market.
Shona Carman
Director of Shona Enterprises
http://www.lead-balloon.com
shonacarman(at)lead-balloon(dot)com