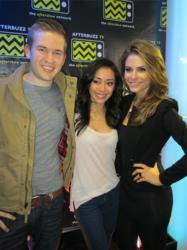 "To me, acting is like tennis. You're only as good as the person you're playing with so if you're playing with Michael C. Hall, what do you have to worry about?"
Los Angeles, CA (PRWEB) December 03, 2012
Dexter's Aimee Garcia made an appearance on AfterBuzz TV's Dexter edition on Wednesday night. Garcia, who plays Jamie Batista, was invited on the network to discuss her perspective on the popular Showtime series. In the interview, Garcia gives insight to the final scene of this season, talks about Michael C. Hall and Jennifer Carpenter's divorce and reminisces about her audition for the hit show.
Being a part of Dexter has been a dream for the 33-year-old Chicago native.
"I have been a fan of Dexter since the pilot," Garcia says, "Once I got the audition I just squealed and you would have thought I just won 45 million dollars."
Not only was Garcia a fan Dexter prior to being cast, but she admits that she is also a huge fan of the show's star, Michael C. Hall.
"I really think he's one of the best actors of our generation," Garcia says, "To me, acting is like tennis. You're only as good as the person you're playing with so if you're playing with Michael C. Hall, what do you have to worry about?"
During the interview, Garcia discusses what it's like for Hall and Carpenter to work together after their divorce.
"[Hall and Carpenter] are both so professional and really good friends. They get along really well. If you see them on set they're cracking up," says Garcia, "Someone tweeted that [Carpenter] deserves an Emmy for telling her ex husband that she is completely in love with him...I think [her character] Deb is damaged, but I don't think Jennifer is damaged. She's just a strong powerful woman."
Garcia also divulges that during the filming of season 6, the final scene was kept secret and not included in the actors' scripts and was only read once at a table read. Protocol was the same this year.
"This season, no-one got the last scene," Garcia said, "It was read out loud once and it remains in my brian. It's definitely a cliffhanger."
The Dexter aftershow is a weekly wrap up show that broadcasts worldwide from Los Angeles, CA as part of Extra's Maria Menounos and filmmaker Keven Undergaro's online broadcast network, AfterBuzz TV. AfterBuzz is dedicated to producing daily post-game wrap-up shows for fans' favorite TV shows, covering shows like Homeland, X Factor, Jersey Shore, WWE's Monday Night Raw and countless others. Currently AfterBuzz TV receives over 16 million downloads on iTunes per week from over 75 countries. For further information about the network, visit afterbuzztv.com
AfterBuzz TV's Dexter aftershow, hosted by Sean Overman, JJ Jurgens, Stephen Lemieux and Anna Koppel, immediately follows Showtime's airing of Dexter on Sunday nights.
Links to the episode can be found on YouTube and iTunes.
YouTube: http://youtu.be/rVEqnB3n2B0