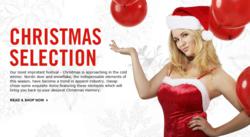 OASAP will launch a large-scale promotional celebrations whereby not less than the special discount of Black Friday and Cyber Monday from December 12.
New York (PRWEB) December 07, 2012
Now that the shopping carnival of Black Friday and Cyber Monday are over, OASAP gives customers a new reason to celebrate. On December 12th OASAP will launch a large-scale promotional celebration that will rival both Black Friday and Cyber Monday.
In the past year, OASAP captured the fashion world by storm, incorporating elements of the latest street trends with worldwide fashionista style. OASAP's dedication to fashion has constantly positioned the company to make great progress in the field of B2C online business with the support from a multitude of fans.
OASAP fashion editors carefully made the selections that appear on the site. Over 30,000 pieces have won the universal approval and support of fashionistas and loyal fans. Also, in the year of 2012, OASAP focused on collaborating with fashion mavens all over the world, on this basis, OASAP continues to make efforts to march toward to the direction of a world-class online fast fashion brand.
12 is a favorite number of the OASAP team. It is not only a time cycle, but also a symbol of satisfactory and perfection, so OASAP will make a selection of hundreds of high-quality products with lowest price for its consumers in the December 12, 2012, and it will create a special shopping carnival for December 12 of each year in the future.
In addition, OASAP will introduce a new way of cooperation for publishers in December, so as to coincide with the birthday celebrations.
.....................................................................................................................................
ABOUT US
OASAP IS: A High-street Fashion Online store
OASAP Likes to: Deliver fashion & love!
OASAP is a global online store dedicated to high-street fashion by offering various kinds of women's apparel, bags, shoes, jewellery, accessories, beauty products, etc.
OASAP was founded in late 2011, and has already grown to the leader of high fashion online stores. We keep updating products at a high rate every day. Now we update more than 600 new products each week. Those products mentioned definitely belong to the latest fashion trend.
OASAP's mission is to make you close to the planet's most cutting-edge fashion, no matter where you are or what class or age group you are in. Pursuing fashion is the right of every woman.