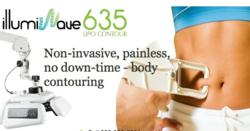 We are witnessing the next generation of advanced medical device that are completely painless... We are so excited to be the first in NY to be providing this level of sophisticated technology and comfort for our patients" continued Dr Zdinak.
(PRWEB) December 01, 2012
Dr Lisa Zdinak is proud to announce the introduction of the newest generation of cold lasers for solving a variety of issues ranging from hair loss in men, hair thickness and texture for women, losing inches around the waist and acne.
Low level lasers or cold lasers have actually been around for quite a while. The first time we saw them was probably back in the 60's, watching James Bond almost cut in half by a hot laser by Goldfinger. What we didn't know is at the same time that hot lasers were discovered simultaneously it was disovered that certain wavelengths of light did not create any heat at all but still traveled far and even penetrated the skin, and were such named cold lasers or low level lasers. The first thing the scientists did was to test whether they caused any harm.. So they got the labratory mice and shaved half of them and started applying cold lasers to one group to see if they could induce cancer. The only thing that happened was the treated mice grew their hair back more quickly.. That was 50 years ago.. It wasn't until 2002 that the first cold laser actually received FDA approval for carpal tunnel syndrome. Since then a plethora of them have been approved for a variety of issues ranging from speeding recovery of the gums to various therapeutic lasers for soft tissue injury as well as biostimulation for growing hair and even acne.. Just like electricity still baffles science so does cold lasers.. We know that the lasers stimulate the mitochondria (remember high school biology the little energy factories in every cell?) From there a cascade of benefical effects occur which we call "biostimulation" In fact every year dozens of new applications are discovered. Think of it this way.. We all know that the sun has a myriad of benefits, ranging from but not limited to creating vitamin D to improving mood, building melanin or a tan. What we are doing in a general sense is getting sunlight into your cells. More specifically with lasers we are picking specific benefical wavelengths of light and focusing them on a specific area to address a specific need. Its really that simple and nothing could be more natural. It should come as no surprise that we are finally discovering a myriad of benefits.
One of the leading players in the industry is Illumiwave. They have built some of the most sophisticated lasers to address biostimulation of the hair, fat loss and acne. They took existing FDA approved studies on fat loss done by Zerona at the wavelength of 635 nm with 5 laser diodes at 5 milliwatts, upped the power to 25 miliwatts as well as the number of diodes from 5 all the way up to 89 to increase the effectiveness. Similarly they have taken the already FDA approved wavelength of 650 and 670 nm for hair loss and built a sophisticated powerful laser for stimulating the growth of new hair as well as improving the texture and quality of existing hair. Illumiwave also developed a laser at 405 nm, true blue, for treating acne and killing superficial bacteria on the skin.
Lisa A. Zdinak MD, medical director of Precision Aesthetics in New York, always the pioneer in non invasive and natural solutions, is constantly researching and studying the industry looking for the absolute best solutions for her international patient base. After an exhaustive multi year search for the best partner for what may very well turn out to be the next generation of cosmetic as well as health care, she decided on Illumiwave. " We are witnessing the next generation of advanced medical devices that are completely painless for medical and cosmetic treatments" said Dr Zdinak. Cold lasers have become a permanent fixture at dentist offices, chiropractors and now forward thinking cosmetic doctors. " we are so excited to be the first in NY to be providing this level of sophisticated technology and comfort for our patients" continued Dr Zdinak.
Dr Zdinak attends her diverse clientele including royal families, entertainers, actors, business people as well as the man or woman next door at her newly renovated offices at 10 West 74th St, just steps off of Central Park. Besides the newest addition of three new cold lasers, Precision Aesthetics and Dr Zdinak have been most often associated with body shaping and skin tightening due to their many firsts with Thermage body shaping and Thermage facial skin tightening as well as introducing Exilis for body contouring. Precision Aesthetics is also the only NY provider and distributor for Ultraceuticals, Australia's leading doctor dispensed skin care line. Recently Dr Zdinak was featured on television for PRP, utilizing growth factor fillers for the face. Pretty much anything that's natural and minimally invasive can be found there, Mesotherapy, Cryotherapy, Carboxtherapy to name a few.