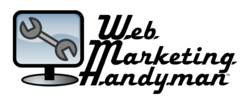 Whether you have had a website for years or are just thinking about getting online, this site can help.
Chicago, IL (PRWEB) December 01, 2012
Chicago Internet marketing expert Elijah Litscher has announced the launch of a new website with a focus in answering frequently asked questions regarding web marketing. Geared toward small business owners, The Web Marketing Handyman launched on Nov 27, 2012 at http://www.webmarketinghandyman.com.
"Throughout my years of working with small business owners to optimize their web presence, I realized that there are a number of common questions people have about advertising on the internet," said Litscher. "So I decided to take all of the information I have gathered over the years and put it in one place where I can give business owners a way to easily find simple answers to their internet marketing questions."
Visitors to the free Internet Marketing information site can browse previously asked questions, post a question, or browse through by topic. Topics include search engine optimization and marketing, email marketing, social media, website design and functionality, online press release marketing and more. Any question is welcome, and answers are presented in plain English.
"My hope is that small business owners of any kind can use this resource to get the information they need to succeed online," said Litscher. "Whether you have had a website for years or are just thinking about getting online, this site can help."
Elijah Litscher, AKA "The Web Marketing Handyman", is a specialist in online marketing and is a student in the strategy of powerful and profitable website design. As part of the seminar circuit, Elijah has educated thousands of small business people on topics he is an authority on, including Search Engine Optimization, E-Commerce, Email Marketing, Social Media Implementation, and Paid Search Strategies. He has achieved an elite certification partnership with Google, which has let him travel to the Google facilities in Mountain View, CA, and Chicago, IL for specialized training on Google services. His prior experience includes online marketing for major sites such as CareerBuilder and Online Yellow Pages. He currently is the owner of SmartROI Consulting (http://www.smartroiconsulting.com), a Chicago Web Design and Internet Marketing firm.