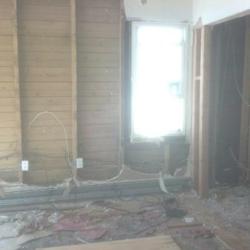 They are my friends and have helped me a lot and so I want to help them now. - Milan Jara
Margate, Florida (PRWEB) December 27, 2012
The people who run the Sharesale program, Vinny O'Hare and Debby Carney, are residents of an area of Manhattan that was particularly hard hit by this devastating storm and the subsequent onslaught of harsh winter weather.
Milan Jara, president of Decorative Ceiling Tiles, notes that on the day that Sandy (also known as Superstorm Sandy) hit Manhattan, causing massive flooding and power outages, the couple's New York home was flooded almost up to the ceiling. While the couple, their family members, and their pets were able to remain safe, they lost nearly all of their possessions, including all of their clothing.
Thanks to generous donations to the ChipIn fund set up by Karen Garcia, Carney and O'Hare were able to rent a truck and pick up supplies for themselves as well as for neighbors who were also victims of the storm and were unable to walk or drive to the donation area.
Carney and O'Hare have expressed their thanks for their donations. Carney writes that the fund allowed them to move their pets and their few remaining belongings to a home in Phoenix, where the couple will stay while they try to rebuild their New York residence.
With all of the couple's funds going towards rebuilding their home, Jara is requesting help to make the approaching holidays brighter for them by increasing donations to the ChipIn fund this month. This fund also provides an opportunity to donate to Sandy victims for those who were unable to donate to the 12-12-12 concert fund.
Those who wish to help can read more of O'Hare and Carney's story and make donations at http://affiliatesuperfriends.com/debbie-vinny/.
Additionally, well-wishers can help by ordering books that were written by O'Hare and Carney at http://www.amazon.com/s/ref=nb_sb_noss?url=search-alias%3Daps&field-keywords=deborah%2Bcarney&rh=i%3Aaps%2Ck%3Adeborah%2Bcarney. These excellent books cover diverse subjects, from inspirational quotations to classic Cadillac cars.
DecorativeCeilingTiles.net wishes to express its heartfelt sympathies to all those who were affected, and are still being affected, by the devastation of Hurricane Sandy and its aftermath, and wishes to add its thanks to those who have helped the victims.
With headquarters in Florida and distributors and installers throughout the United States and select overseas locations, DecorativeCeilingTiles.net is the online leader in the sales of decorative ceiling tiles.