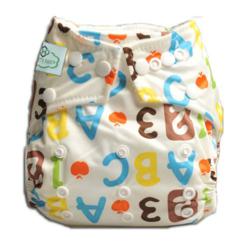 At $40, the Smarty Pants Grab Bag makes a perfect gift for all parents
(PRWEB) December 01, 2012
Home Delivered Diapers is offering a new deal on the Smarty Pants Grab Bag now through the end of December: "Steal this Deal on Smarty Pants!"
The deal offers $10 off of the already discounted Smarty Pants Grab Bag. The Grab Bag contains 3 cloth diapers, normally $13.99 each, as well as 6 washable organic bamboo inserts and a design print portable wet bag for only $40 total, saving Christmas customers over $20.
During the month of December those buying Christmas gifts will receive a 20% off coupon on the Grab Bag by leaving a comment on the Smarty Pants Facebook page at facebook.com/clothbabydiapers.
Mike Kline, owner of Home Delivered Diapers says, "We want people to experience the benefits of cloth for their pocketbook and their baby's comfort. The Smarty Pants Grab Bag makes a perfect gift for any parent". Cloth diapers are typically expensive and can range up to $50 each. Smarty Pants is an affordable alternative that retails at $13.99.
The average baby will have his or her diaper changed between 5,000 to 7,000 times in their first 2 years of life as they change sizes from newborn to Toddler. Compared to disposables, using cloth diapers at home parents can save between .25 and .35 on each diaper change, which translates into hundreds in savings over those first two years.
Smarty Pants organic cloth baby diapers are an environmentally friendly and a convenient alternative to disposable baby diapers. Smarty Pants cloth diaper's unique design makes diapering 'pin-free.' Smarty Pants' allows the diaper to be used from 8 to 34 lbs. - newborn all the way to toilet training.
With a stretchy waterproof 100% cotton cover that comes in eight different colors and a unique ABC design, Smarty Pants cloth diapers make a wonderful holiday gift for any parent looking to save on diapers.
Home Delivered Diapers also offers a chlorine-free & hypoallergenic disposable diaper for convenience when families are on the go called Cuties. Combining the two types of diapering gives families the freedom to travel with disposables while saving a fortune with cloth baby diapers.