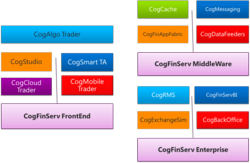 Pune, Maharashtra (PRWEB) December 01, 2012
Cognosys Technologies launches a new version of CogFinServe, an AI based Algorithmic Trading Platform with built in features for optimizations and low latency trading. CogFinServe provides ultra-fast and ultra-scalable low latency messaging using integrated CogMessaging architecture.
Cognosys Technologies being an Intel Premier Elite partner, CogFinServe has been tested using Intel SAT tools to ensure performance optimizations for multi-core processors and built on a Common Framework extending over web, windows and mobile computing devices.
CogFinServe while conforming to the existing industry standards goes beyond, to embrace newest technologies leading to much higher throughput and low latency solution for Brokers, Market Data Vendors, professional traders and analysts.
Most Trading Platforms lack an advanced technical analysis platform with Technical Analysis Language and their performance is adversely affected with higher latency and slow rendering especially when dealing with Multiple Symbols and diverse Vendors. Leveraging Complex Event Processing, CogFinServe provides a flexible plug n play architecture to enable Multiple Data Vendors and Brokers through a common Interface with auto trading and ability to trade on single click directly from chart providing an intuitive user interface on Desktop, Web and Mobile.
A Rich Technical Analysis Language ensures much faster calculation of complex mathematical models and supports built-in ever-growing library of hundreds of indicators and trading systems. Built-in Market Scanner recursively calls any number of Financial Models and updates results directly on mobile computing devices. Supporting well known coding languages like VB and C#, users can write and tweak their own strategy and algorithms within the CogFinServe framework.
A Built-in Browser, SMS/IM Integration, Research Stock and Financial Results auto update ensures that Technical Analysis is not far from Financial Analysis.
CogFinServe is offered both under SaaS as well as SaS Model, maintaining secured databases which can be backed up to Secured Private Info-vaults or Broker's Private Cloud and integration with StreamInsight and Analysis Services
About Cognosys:
Cognosys Technologies, a Red Herring Global 2012 Top 100 winner, is a Global ISV and technical consulting company leveraging cutting edge technologies to provide custom software solutions across diverse domains with special emphasis on banking & financial services, healthcare, ERP/ CRM, high performance Cloud/ Cluster computing, complex event processing, enterprise mobile applications and creative embedded deployments. Combining unparalleled experience and comprehensive capabilities across all industries and business functions, Cognosys Technologies collaborates with clients to help them become high-performance businesses.