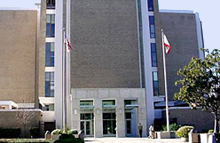 I have been attending these court hearings and as a private citizen I am appalled at the ease to which these judges are disregarding the laws of California and refusing to apply them to the Merritts as they do for lawyers' SPENCER GRAVES
San Jose, CA (PRWEB) December 07, 2012
The Superior Court of Santa Clara, had until December 3, 2012, to show cause before the higher court as to why it should not order the full disqualification of one of its judges who is shown to have made biased decisions in favor of Bank of American, Countrywide Home Loans and its company officers who are each defendants in the nations largest Predatory Lending fraud case brought by individuals without the aid of any lawyers.
On November 26, 2012, the California Court of Appeal's issued an unprecedented order which commanded presiding judge Richard Loftus to disqualify a subordinate Judge James Stoelker from conducting any further proceedings involving Merritt v. Mozilo, et al., 109CV159993.
Local Court Watcher, Citizens Advocate and Expert Statistician Spencer Grave, who has monitored and reported on each of these proceedings, reports that the transcripts of the hearings shows that the Merritts had presented evidence to Judge Stoelker during an August 2012 hearing accusing him of bias against them due to his rulings always made in favor of Defendants and that they did not understand such until they learned of his seven plus year employment with Countrywide Home Loans. They further explained in court and their moving papers to disqualify that it "sadden" them that he had concealed his past relationship with Countrywide because it appeared to be deceptive.
The August 2012 court transcripts further reports that Judge Stoelker does finally admit his past employment; however, the Merritts had to come upon this information only with the aid of local lawyer Robin Yeamans, and not due to the Judge himself disclosing such. Afterwards the Judge filed a "Verified Answer" which contested and fought removal from the case.
A review of the court records reflects that instead of presiding Judge Loftus disqualifying Stoelker, he sent the request for disqualification to Santa Cruz Superior Court Timothy Volkmann who also refused to enforce disqualification laws and denied the Merritts requests on October 2, 2012 to disqualify Stoelker.
The court files shows that the Merritts filed a Petition for Writ of Mandamus, asking the Court of Appeal's to take the extraordinary step of intervening in the operations of the lower Superior Court and either terminate Judge Stoelker from their case or conduct a hearing so that more evidence court be provided for such purpose.
Without hearing, Justice Premo, issued the explicit order for Stoelker to be disqualified or to come before the Appellate Court to explain why it should not issue such a mandatory order.
Statistically, a writ of mandamus has traditionally only been issued once out of more than 1,000 request filed and so is the most rare order that is ever issued by the Court of Appeal's.
Salma and David Merritt lawsuit alleges that they were targeted 2006 by Countrywide Home Loans defendants into purchasing loans for their $749,000 which were totally unlike what they were promised; left with mostly blank loan documents which did not disclose payment amounts or structure; conspired with Appraiser to falsify the value of their property by at least $80,000 above fair market value and committed other practices upon them which was part of overall practice that was inflicted upon millions of Americans.
This is the second Appellate Decision which has issued in this case. On December 6, 2011, Mr Merritt gave oral argument before the Court of Appeal's and on December 19, 2011, the Superior Court dismissal of Wells Fargo was reversed and reinstated to the case. Wells Fargo has since entered in to a very generous settlement with the Merritts to escape further liability.
The Merritts will now be assigned another Judge; however, according to declarations of Mr Merritt which are on file in this case, he is alleging that there seems to be a systemic practice by Judges to team up with one another and fail to equally apply the law due to his efforts to expose their errors in rulings and proceedings.