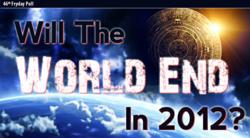 The site has laid out the essence of the Mayan and other Doomsday theories and illustrated the facts that could help debunk the theory.
San Jose, CA (PRWEB) December 01, 2012
Much has been written about the 'End of the World'. With the approach of 12/21/12, the day the Mayan Long Count Calendar is said to end, the Internet is teeming with believers, critics, cynics, religious and New Age sensationalists, scientists, and curious observers. While most of them are trying to make their voice heard, leading content and mapping portal MapsofWorld have taken a unique approach to the topic. In a colorful infographic, the site has laid out the facts of the Mayan and other Doomsday theories, taken a look at the famous 'Preppers' (those who have been preparing for apocalypse) and illustrated the facts that could help debunk the theory.
Apart from explaining the Mayan Long Count Calendar and why it could be interpreted as the drawing of an end of the world as we know it, MapsofWorld's infographic also showcases quotes from NASA refuting popular myths including the existence of Planet Nibiru, and the Galactic Alignment of Earth and Sagittarius A. Other New Age theories and religious views such as the Hindu End of Kaliyug ideas have also been illustrated very creatively. MapsofWorld calls users to vote and share their views on their website making this an interesting and open feature of the portal.
Mapsofworld.com is one of the world's largest mapping and content portals and has been an important mapping research aid since 2003. The site has over 25 million map downloads to its credit and has drawn over 66 million visitors till date.
About the company:
MapsofWorld.com is a multilingual portal offering high-quality maps and information across geographies and platforms. With special focus on educational content, the portal has thematic as well as interactive maps on all major platforms: Web, iPhone, iPad, iPod, and Android. World Atlas and World Quiz are two highly successful educational apps. Other services offered are custom mapping, content digitization, and the online map store.
For more information, please contact:
social(at)mapsofworld(dot)com
MapXL Inc.
10 S. Third Street, Suite 310,
San Jose, CA95113