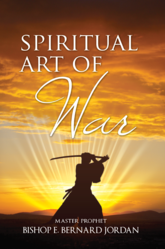 New York, New York (PRWEB) December 14, 2012
Bishop Jordan has made an Instructional E-Courses titled The Spiritual Art of War. The Spiritual Art of War is a book of strategy, which can have people achieving victory and success in life and in business. This book will snatch people power back, the bible says, "Let GOD arises, Let his enemies be scattered." (Psalms 68:1) People need this book to uplift and enliven your strategy during the time of war.
This spiritual art of war instructional e-courses is completely made for people seeking improvement and perfection and helping people achieve their victory uncomplicated in the power of prophecy.
Bishop Jordan has been the founder and Senior Pastor of Zoe Ministries since 1983. Zoe Ministries started its journey to becoming a Global impacting ministry in Westfield, New Jersey with 60 people in attendance. Zoe began as thriving prophetic church with a vision to reach the world with the gospel, the ministry continued to develop its unique structure under Bishop Jordan's leadership which marked it as a church in pursuit of destiny; called to fulfill the will of the Lord. Invigorated with a vision of a church resplendent in a glory greater than of Solomon's Temple, Bishop Jordan has been building a ministry of restoration that would accurately reflect the Biblical pattern, ripping down the constrictions of traditionalism and revealing the lies that have led the church into captivity.
As people begin to reach Bishop Jordan, they open the doors start achieving an abundant success in life and in business.
Check out his Video, Conference Teaching, e-Books and Power point.
Join Bishop Jordan every 7:00 PM: EST for the Power of Prophecy on the live conference call.
Dial 712-432-0075 pass code 213620# join right now.
Be a member, log in here .
One word can change prophetic directions!
For more information, please call
1 888 931 0434
Send mail to:
Zoe Ministries
PO Box 270 New York, N. Y. 10008.
NaomiCook(at)zoeministries(dot)com
Visit websites:
http://bernardjordanartofwar.com/