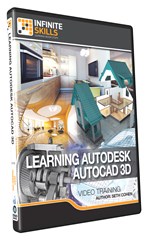 Learn AutoCAD 3D At A Pace That Suits You
(PRWEB) December 03, 2012
Software training firm InfiniteSkills Inc. this week released its "Learning Autodesk AutoCAD 3D Tutorial," a training course geared toward students and professionals working in AutoCAD interested in exploring its 3D capabilities.
AutoCAD 2013 is the latest version of the design industry's staple computer assisted design (CAD) program. While architects, engineers, and other designers have used AutoCAD for years to draft in a 2D digital environment, AutoCAD also boasts powerful 3D modeling capabilities, including solid-body and wire-frame modeling and simulated walk-throughs using its ShowMotion feature.
InfiniteSkills' Learning Autodesk AutoCAD 3D Video Training - DVD explores the features and concepts necessary to begin 3D modeling in AutoCAD, teaching valuable tools and techniques applied in a series of real-world situations designed to build a foundation for professional work.
Learning Autodesk AutoCAD 3D Training Video
Course author Seth Cohen is the vice-president of training at CADmanage Inc. Specializing in training and implementation of AutoCAD and related software, he is an Autodesk Certified AutoCAD Professional with years of experience providing high-level training and consulting support for companies such as Ford Motor Co. in using AutoCAD and similar CAD software.
Using modeling problems based on real-world design situations, Cohen provides an efficient and precise guide to 3D modeling in AutoCAD, focusing on the most commonly used tools and techniques in order to provide a working foundation in 3D modeling.
After covering the basics of interacting with objects in the 3D environment, Cohen explains how to use lines and polylines to create wireframe 3D models as well as how to create surfaces for these models. He also explores the tools for using existing 2D models to create 3D models.
Users will also learn how to create composite solid models and how to add details such as fillets and chamfers. Cohen goes in detail with solid model editing, explaining how to grip models, and manipulate and alter them in 3D.
Finally, the course explores various viewing options, including the use of lighting and various materials, and how these elements interact with model views. The look at views leads into the closing chapters focusing on publication, where rendering, model navigation, and cameras and camera views are explored on the way to creating a final 3D walkthrough presentation in ShowMotion.
"After completing this course," Cohen says, "you will have a good grasp of the basics of using AutoCAD as a 3D modeling tool and be ready to start your first real-world 3D modeling project."
Free demo videos and a full list of course contents can be found on the Learning Autodesk AutoCAD 3D Tutorial training page of the InfiniteSkills website:
http://www.infiniteskills.com/training/learning-autodesk-autocad-3d.html
InfiniteSkills offers its Learning Autodesk AutoCAD 3D Tutorial either as a DVD or a direct download from the company website at a retail price of $99.95. Though the compatibility of the programs covered varies, all InfiniteSkills titles and formats are compatible with both Mac and Windows operating systems, and shipping is available around the globe. Additionally, InfiniteSkills tutorials are supported by project files which correspond to examples in the videos.
About InfiniteSkills Inc.
A leader in the field of software training, InfiniteSkills strives to offer the highest quality training available at an affordable cost. InfiniteSkills tutorials are task-oriented instructional videos, teaching complex skills by providing hands-on examples, guiding users as they carry out critical objectives. InfiniteSkills offers a comprehensive range of software titles available as DVDs, digital downloads, and iPad editions, keeping with company aim of delivering professional training to customers anywhere they want to learn.