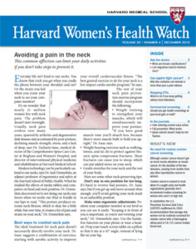 Boston, MA (PRWEB) December 10, 2012
It isn't unusual for people with heart disease to take several pills a day—aspirin, a statin to lower cholesterol, a couple to control blood pressure, and maybe a beta blocker to slow the heart rate. Keeping track of all these drugs is a feat of memory and organization. But what if you could accomplish all this with a single pill? The December 2012 Harvard Women's Health Watch looks at the "polypill," a combination pill that's been in development for several years, and that could be available in the not-too-distant future.
Taking several medications in one pill could improve the percentage of people who take their medicines as prescribed. Right now that percentage is "unbelievably bad," says Dr. Christopher Cannon, professor of medicine at Harvard Medical School and a cardiologist at Brigham and Women's Hospital. "The concept is that simplicity will make it easier to take the medicines," he says.
Polypill studies so far have been very promising. For example, The Indian Polycap Study (TIPS) found that combining five drugs—three blood pressure medicines, a statin, and aspirin—in one pill significantly reduced blood pressure and harmful LDL cholesterol.
Yet a few questions still need to be answered before the polypill can be ready for general use:

Will the blood pressure and cholesterol reductions seen in studies translate into less heart disease?
Will these drugs work as well together as they do individually?
Should the individual medicines be given in lower-than-normal or full-strength doses?
Another question is how to deal with side effects. "If you develop a side effect from one of the five medications, the only thing you can do is stop all five at once," Dr. Cannon says.
Read the full-length article: "Treating many conditions—with just one pill"
Also in the December 2012 issue of the Harvard Women's Health Watch:

Avoiding a pain in the neck
Stopping repeated urinary tract infections
Could an aspirin a day keep cancer away?
Harvard Women's Health Watch is available from Harvard Health Publications, the publishing division of Harvard Medical School, for $20 per year. Subscribe at http://www.health.harvard.edu/womens or by calling 877-649-9457 (toll-free).