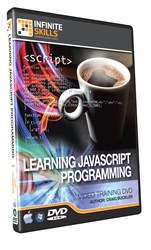 Master JavaScript At A Pace That Suits You
(PRWEB) December 04, 2012
Software training firm InfiniteSkills Inc. this week released its Learning JavaScript Programming Tutorial, a course teaching how to program using the language most commonly used in interacting with the web in common browsers.
InfiniteSkills' Learning JavaScript Programming Tutorial builds a working understanding of JavaScript programming beginning with the basics and moving into advanced concepts and practical application. This highly detailed course offers everything students need to build a working foundation in JavaScript.
Learning JavaScript Programming Training Video
Course author Craig Butler coded his first web page in 1995 using Internet Explorer 2.0. He soon began a career in desktop software development, and has since worked for the giants of the computer industry including Microsoft, MSN, and Yahoo, as well as the US and UK governments as a software developer. His specialty is client-side development. He also focuses on web standards and best practices, and progressive web enhancement.
In the Learning JavaScript Programming Training Video - DVD students benefit from Butler's many years in the industry, making it possible, as he says, "for students to avoid making the mistakes I made as a young programmer."
After introducing JavaScript, teaching how programming languages function and have evolved over time, Butler explores the fundamentals of JavaScript, explaining how its loaded, when it runs, and what it can and can't do. Then the course tackles the essentials of JavaScript programming covering browser input and output, statements and commands, and conditions and loops - all vitally important coding fundamentals.
Butler then delves into more advanced topics, demonstrating complex concepts like string and number manipulation, object oriented programming, regular expressions, anonymous functions, closures, and recursion.
In order to help students learn to use their growing JavaScript knowledge in a web environment, Butler closes by covering JavaScript's functionality with HTML5 and other platforms in a web browser environment. Here, he pays special attention to JavaScript's interaction with the new multi-media capabilities of HTML5 for native video and animation.
"I designed this course to help you begin your journey to being a great javascript programmer," Butler says, "and I hope it helps you avoid many mistakes I made when I was starting out."
Free demo videos and a full list of course contents can be found on the Learning JavaScript Programming Tutorial training page of the InfiniteSkills website:
http://www.infiniteskills.com/training/learning-javascript-programming.html
InfiniteSkills offers its Learning JavaScript Programming Tutorial either as a DVD or a direct download from the company website at a retail price of $99.95. All InfiniteSkills titles and formats are compatible with both Mac and Windows operating systems, and shipping is available around the globe. Additionally, InfiniteSkills tutorials are supported by project files which correspond to examples in the videos.
About InfiniteSkills Inc.
A leader in the field of software training, InfiniteSkills strives to offer the highest quality training available at an affordable cost. InfiniteSkills tutorials are task-oriented instructional videos, teaching complex skills by providing hands-on examples, guiding users as they carry out critical objectives. InfiniteSkills offers a comprehensive range of software titles available as DVDs, digital downloads, and iPad editions, keeping with company aim of delivering professional training to customers anywhere they want to learn.