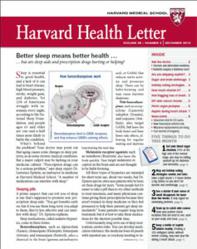 Boston, MA (PRWEB) December 13, 2012
The thieves that are stealing sleep from millions of Americans may be lurking in their medicine cabinets. Prescription sleep aids and other prescription medications can interfere with much-needed ZZZs, reports the December 2012 Harvard Health Letter.
Sleep is essential to good health, and a lack of it can lead to heart disease, high blood pressure, stroke, weight gain, and diabetes. Yet one in five Americans struggle with insomnia every night, according to the National Sleep Foundation. "Prescription drugs can be a serious problem," says sleep expert Dr. Lawrence Epstein, an instructor in medicine at Harvard Medical School.
Some prescription sleep aids, when taken for long periods of time, become less effective and actually interfere with sleep. Other types of prescription medications may also interfere with sleep. Some contain stimulants that make it difficult to fall asleep. Others—like steroids, antidepressants, and some medicines for migraine, heart disease, and allergies—can wake you with nausea, night sweats, or needing to go to the bathroom.
Read the full-length article: "Better sleep means better health"
Also in the December 2012 issue of the Harvard Health Letter:

High blood sugar linked to brain shrinkage
When loss of smell signals a bigger health issue
Do-it-yourself skin cancer checks
The Harvard Health Letter is available from Harvard Health Publications, the publishing division of Harvard Medical School, for $16 per year. Subscribe at http://www.health.harvard.edu/health or by calling 877-649-9457 (toll-free).