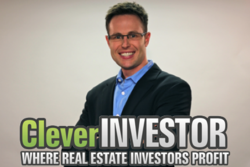 Learning how to wholesale real estate is a smart choice if your looking to cash in on the recent housing boom!
Phoenix, Arizona (PRWEB) December 04, 2012
Want to become a real estate mogul? Now is the time to get in the game. With the real estate market heating back up, many previously out-of-work Americans are learning how to invest in real estate and how to wholesale real estate to make some quick cash.
Today, Cody Sperber, founder of CleverInvestor.com, announces the release of a free training video that teaches new real estate investors how to wholesale real estate. Real estate wholesaling, also known as flipping houses, is an investing strategy where a person finds a distressed property or distressed homeowner, negotiates to buy the property at a significant discount from retail, then turns around and assigns their interest in the property to a cash buyer for more money during their closing period. According to CNNMoney.com, a new housing boom may be on it's way with cash buyers leading the charge. With pent up demand and new home sales rising, many cash buyers that were once sitting on the sidelines are now jumping into the rental and flipping business. This swing in the housing market provides a unique opportunity for smart investors that take the time to learn the steps involved with wholesaling real estate.
According to Cody Sperber, "There has never been a better time than right now to learn how to wholesale real estate because wholesaling requires little resources to accomplish, and a new investor can master the technique within days". The step-by-step real estate investing education found at Clever Investor helps new and experienced investors take full advantage of the upcoming housing boom by delivering the highest quality real estate investing education and training found online.
"Right now cash buyers are carrying most real estate markets that were once decimated by foreclosures. Cash buyers are getting better deals because they can move faster, and sellers feel more confident that their offers won't fall through due to lack of financing", says Sperber. CleverInvestor.com is showing investors how to take advantage of this cash boom. With investors making up a large amount of the overall real estate sales, the time is ideal for individuals seeking to make extra money to learn the steps needed to profit quickly. The free training video just released explains how easy it is to earn extra money by wholesaling real estate. Wholesaling is a great way to break into real estate investing because a new investor won't need any money or credit to get started. To download your free training video teaching you how to wholesale real estate, or to learn how to take advantage of the recent housing boom, visit http://www.cleverinvestor.com.