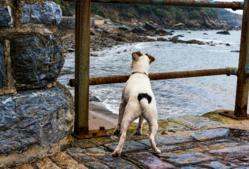 My girls and I love Jason's Iona Abbey picture. It is in the living room where we can see it every day. We never get tired of it.
Pittsburgh, Pennsylvania (PRWEB) December 03, 2012
Squirrel Hill artist Jason P. Winters will be displaying a collection of his fine art photography through March 2013 at Gullifty's in Squirrel Hill Pennsylvania. The opening reception is December 10, 2012 from 5-9 pm. Information can be found at http://www.undescribable.com/news.
Mr. Winters work is an eclectic mix of large landscapes, intimate landscapes, and architectural features. While the subject of each piece varies widely, there is a touch of whimsy and innocence in his pieces that ties the show together.
A first view of Mr. Winters work engages a strong emotional reaction. Subsequent viewings expose the depth of detail to be found in each piece. Mr. Winters work is something that can be enjoyed over and over by the whole family.
Random Thoughts is sponsored in part by Squirrel Hill businesses Gullifty's and Framework on Forbes.
About Jason P Winters:
A photographer since the age of 12, Mr. Winters' photographic interests are in fine art, landscape, and documentary photography. He completed an MA and MFA in Documentary Photography at the University of Wales, Newport, and studied with famous Scottish landscape photographer Richard Childs. Mr. Winters is a member of The Photographic Section, The Academy of Science and Art of Pittsburgh.
Contact:
Geri Winters
(412) 432-6017
Jason P. Winters Fine Art Photography
http://www.undescribable.com
About Gullifty's:
Gullifty's in Squirrel Hill has won Pittsburgh's Best Desserts for the last 30 years. Not only desserts, they are also justly famous for their trade mark Lip Smackin Barbecue Sauce and their Sunday brunch. Gullifty's is a patron of the arts, hosting the works of a variety of artists and bands over the years.
Contact:
Matt Hastie
(412) 521-8222
Gullifty's
1922 Murray Avenue
Pittsburgh, PA 15217
About Framework on Forbes:
Owner and framing artist Lisa Marie Sopko has over 15 years of experience in custom framing. Her broad experience allows her to make framing a unique experience for each customer through a personal interactive consultation, ensuring you find the right fit for your treasure every time.
Contact:
Lisa Marie Sopko
(412) 421-4940
Framework on Forbes
5868 Forbes Avenue
Pittsburgh, PA 15217