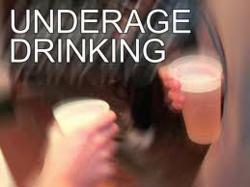 Underage drinking remains a serious problem in all areas of the country.
Sacramento, CA (PRWEB) December 02, 2012
According to a new study by the Substance Abuse and Mental Health Services Administration or SAMHSA, more than 25 percent of all people under the age of 21 are drinking alcohol in spite of laws to prohibit this behavior. At least one-third of underage drinkers reported purchasing their own alcohol for consumption, as well.
Underage drinking is dangerous for many reasons. Not only can drinking affect a young person's judgment, it can be physically harmful. According to SAMHSA Administrator Pamela Hyde, underage drinking can lead to "sexual assault, injury, and even death."
The legal drinking age is set at 21 years in every state in the union. The top ten states for underage drinking are primarily in the northeast, with Vermont, Connecticut, Massachusetts, Rhode Island, and New Hampshire all falling in the top ten for underage alcohol consumption. Southern states had much lower drinking rates, but much higher incidents of underage alcohol purchasers.
Regardless of where a state falls on the list of underage drinking incidents, even a single teen drinking alcohol is cause for concern. John Demas states, "Seeing the effects of alcohol on teenage drivers is disconcerting and tragic. Every week here in California we read of drunk drivers who injure or kill others because of poor choices on their part. Many of these drivers are teenagers, and that opens an incredibly complex and controversial legal issue: Should teenagers who drink, drive and then cause an accident be held criminally accountable for their actions, and should their parents be held civilly liable for the damages they cause?"
"There are arguments on both sides of the issues that point out the ethical dilemma of balancing the need for accountability with the recognition that children often make poor and immature choices. When a 16-year-old drinks then steals a parent's car, causing an accident that kills an innocent person, it is almost impossible to think of this accident in the same way as if a 36-year-old person had committed the act. On one hand, most people want the teen held accountable. On the other hand, many people recognize that parents may have limited control over teenagers' actions. These two conflicting viewpoints make teen DUI cases some of the hardest to prosecute criminally or to litigate civilly."
About Demas Law Group, P.C.: John Demas and the attorneys at Demas Law Group, P.C., a Sacramento personal injury law group, represent the victims of personal injury accidents such as car crashes, motorcycle and bicycle accidents, pedestrian collisions, and slip-and-fall cases. The attorneys at Demas Law Group work with the victims of personal injury accidents to help them recover damages to pay for their losses.