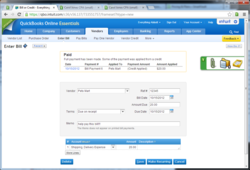 The integration with SmartVault will also propel QBO [QuickBooks Online] from a great product to a must-have.
Houston, TX (PRWEB) December 04, 2012
SmartVault, a leading provider of cloud-based document management solutions, announced today that its new integration with QuickBooks Online is now available. SmartVault's patented Toolbar technology for QuickBooks has been extended to support QuickBooks Online, Intuit's cloud-based accounting solution for small business. The integration allows QuickBooks Online users to attach and view source documents (such as receipts, bills, and invoices) directly from within QuickBooks Online—supporting a completely digital and collaborative accounting workflow.
"QuickBooks Online is experiencing record growth as small businesses are looking to adopt an online accounting system that gives them access to their data whenever they need it. Integrating that availability with anytime-anywhere access to source documents delivers a true paperless office and literally transforms the way businesses operate," stated Eric Pulaski, founder and CEO of SmartVault. "Streamlining paper-based processes and having real-time access to data and files from outside the office as well as in, means that businesses can truly compete on a whole different level. We will remain committed to delivering solutions that help businesses drive growth in a meaningful way."
SmartVault for QuickBooks Online was built using the SmartVault Software Developers Kit (SDK) released in the fall of 2011. Earlier this year, SmartVault released a Plug-in for Microsoft Outlook, which was also built using the SmartVault SDK. These applications are strong examples of how SmartVault's online document storage and secure file sharing capabilities can be easily integrated into commonly used productivity applications—creating workflows that add real value to business users. SmartVault is currently working with other developer partners to support Toolbar integration across multiple accounting systems and business-critical applications.
"If the profession is to stay on the right track and maintain a commitment to collaborative accounting in a SaaS-based model, paper cannot re-enter the equation," stated Darren Root, CPA, CITP, CGMA and managing partner of Root & Associates, LLC. "I believe that QuickBooks Online will be the number-one accounting product in the near future. This means that online document management is a necessity for firms if they are to maintain a completely digital, paper-free, and collaborative workflow. SmartVault's one-of-a-kind integration with QuickBooks Online is key to achieving this. The integration with SmartVault will also propel QBO from a great product to a must-have."
SmartVault for QuickBooks Online is now available in SmartVault premium plans starting at $19/month. Visit the company's website for more information on SmartVault for QuickBooks Online.
About SmartVault
SmartVault, a leading provider of cloud-based document management solutions, provides accounting professionals and businesses with an easy and affordable solution to store, view, and share files securely any time and from anywhere. SmartVault's unique integration with popular small- and medium-sized business applications such as QuickBooks and QuickBooks Online creates a seamless user experience for scanning, attaching, and finding documents within a familiar application. With SmartVault's client portal, users can securely view and share files. SmartVault has earned top honors from Intuit as a QuickBooks Gold Certified Developer, has won both a Readers' Choice Award and a Technology Innovation Award from CPA Technology Advisor, and has earned Awesome Add-on awards for QuickBooks from The Sleeter Group.
SmartVault is a trademark of SmartVault Corporation. All other company and product names mentioned are used only for identification purposes and may be trademarks or registered trademarks of their respective companies. Learn more at SmartVault.com.
QuickBooks® is a registered trademark of Intuit Inc.