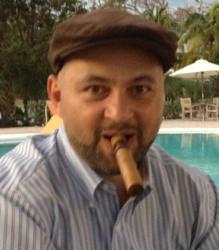 I invite everyone to come and enjoy an evening of holiday festivities.
San Diego, CA (PRWEB) December 02, 2012
San Diego's newest wine and cigar lounge, Habanos Cigar and Wine Cafe is celebrating its Grand Opening and Christmas Party on Friday, December 14, 2012 from 6pm to midnight. Two large enclosed patios provide a festive ambiance for friends to enjoy great conversation, food, premium wines and cigars.
The center of the main patio sports a warm and inviting fire pit. Plenty of free parking is available. Festive music for that holiday feeling. Complementary appetizers. Friendly staff will be there to answers questions and serve customers.
"I invite everyone to come and enjoy an evening of holiday festivities" commented Nate Kalasho, proprietor, wine co connoisseur and cigar aficionado, "I will be providing complementary appetizers, special cigar and wine deals and some of my special appetizers."
EVENT INFORMATION
NO cover charge
Friday, December 14
6pm to midnight
Habanos Cigar and Wine Café
3111 Hancock St corner of Rosecrans
Just South of Hwy 8
619-787-7477
ABOUT HABANOS CIGAR AND WINE CAFÉ
Apx 3,000 sq. ft.
600 sq. ft. walk in humidor
The two large enclosed patios provide leather sofas, tables and chairs.
The main patio sports a warm and inviting fire pit.
5 large screen TVs
Full Tapas kitchen
Huge premium wine selection
Espresso and specialty coffee drinks
Free parking
Hours of Operation
Sunday to Thursday 9am to 10pm
Friday & Saturday 9am to midnight