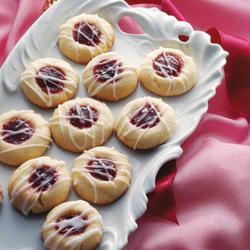 Everyone loves holiday cookies, but sometimes it's hard to decide which ones to make.
Arden Hills, Minnesota (PRWEB) December 03, 2012
Holiday cookies are at the top of everyone's list for the holidays. They are yummy and pretty and everyone loves to share a few with a friend, neighbor or lucky teacher. National Cookie Day is December 4, marking the official beginning of the holiday baking season.
"Everyone loves holiday cookies," says Becky Wahlund, director of the Land O'Lakes Test Kitchens, "but sometimes it's hard to decide which ones to make. There are so many great options!"
So the Land O'Lakes Test Kitchen experts have come up with a Top Ten list that includes cookies that are pretty and festive, easy to make, delicious, easy to store, and easy to share.
"We came up with a list of our top ten cookies," says Wahlund. "Everyone has their favorite family cookies, but when you make cookies to last through the holidays you'll want them to have a few unique features. We call that checking the list twice."
Here are some tips from Wahlund:
Start with something easy and festive, like Best Ever Butter Cookies or Christmas Circle Cookies. They feature a butter cookie base that's easy to make and decorate.
Peppermint Bark Shortbread Bars or Vanilla Glazed Snow Cookies are lovely cookies to give as a hostess gift.
It's always nice to have something that stores well, and everyone loves Peanut Blossom Cookies or Raspberry Almond Shortbread Thumbprints. The Thumbprints and Blossoms are also an easy recipe for kids to help you make.
Add Chocolate Peppermint Shortbread Cookies to your holiday tray to add unexpected holiday flavors. Spiced Spritz with Brown Butter Glaze offer other seasonal flavors that everyone loves.
Almond Meringue Drops and Cranberry Orange Cookies have a lock on pretty and festive. These are the cookies that you think about all year. They are easy to make but it tastes like you took a lot of time.
For more cookie recipes, plus cooking and baking tips for the holidays, visit Land O'Lakes.com.