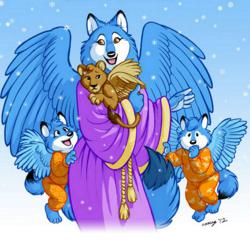 The Grebsa Network "Backwards Trilogy" is an experiment in science fiction by author Heidi Hecht.
(PRWEB) December 03, 2012
Centuries in the future, the Grebsa Lords of Sol System rule the Solar Empire with an iron fist. They are dedicated predators resembling monsters out of every human's nightmare and can be positively nasty when they need to be, but they do have their soft side. The Veroshi appeal to that soft side with their innocent worship and have latched onto the Grebsas as protectors. Living in the city that the Grebsas built to their specifications, there seems to be no question about their faith or the Grebsas' devotion to them, until a litter of newborn Veroshi puppies are found in the snow. As the Grebsas scramble to find the parents, they deal with the philosophical ramifications of being worshiped along with crushed and scattered enemies from previous events and a potential new Grebsa Faction.
Thus begins the events in The Grebsa Network: Snow Puppies, the first release in a planned series of novels about the Grebsa Network and their adorable worshipers. Author Heidi Hecht plans this book as Book 3 of a "backwards trilogy" with Books 1 and 2 still in the works.
Q&A with Author Heidi Hecht
What is a "backwards trilogy" anyway?
It's basically a trilogy that is released backwards. Snow Puppies is planned as Book Three of The Grebsa Network Trilogy with Books 2 and 1 still in the works.
Wouldn't Book 3 sort of be a spoiler?
Sort of, but there will still be all kinds of unanswered questions. What has the main human, Sibley, done to provoke the Grebsas so badly? Where did the Veroshi come from and how did they manage to get under the Grebsas' thick skin? Some of those questions will be answered in Books 1 and 2 of the trilogy.
Where did you get the idea for the Grebsa Network?
Without giving too much away about potential future stories, I had a vague idea that something like the Grebsas could have been created as the brute force for a tyrannical regime and turned on their creators at some point.
And then turned tyrannical themselves.
That's not unheard of.
You seem to imply that the Veroshi are aliens. What can you tell me about them?
Well, you see all the movies about frightening aliens who invade Earth and kill everybody. The Veroshi were inspired by the idea that an incoming alien spacecraft could also be inhabited by refugees or pilgrims who are simply looking for a world to inhabit. Except Earth is already inhabited, so how do you deal with that? You take a good look at the people in power and see how receptive they are to having a settlement of aliens or if you can leverage your way into possession of a piece of land. The Veroshi became a way to show the Grebsas' softer side. They could probably have sent the Veroshi away but decided to set aside a place for them to settle instead.
Good luck with your new book.
Thanks a bunch. I'm looking forward to it.
Find out more about Heidi Hecht's new science fiction novel at TGN: Snow Puppies.