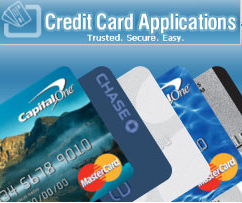 (PRWEB) December 01, 2012
CreditCardApplications.com, the popular online credit card application assistance company, has unveiled their "Best Credit Cards for Holiday Shopping in 2012" guide. This latest addition is designed to help customers searching for new credit find the best credit cards available to them. This comes as good news to holiday shoppers looking for new avenues of credit to use on purchase gifts for loved ones this holiday season.
The new holiday credit card shopping guide is designed to help customers best seek out the right card for them with an easy 4 step process. They recommend customers know what their choices are, know how they are going to use their card, know their payment history and finances, and apply only for cards for which they qualify for. In addition to this methodology, they also offer a list of the best holiday cards for interest rates, rewards, and more, all designed to help customers wade through the vast amount of credit card options available in the market.
CreditCardApplications.com is renowned by customers nationwide for their user-friendly and helpful website dedicated to helping narrow down credit card choices. Through a combination of special filters and information, Credit Card Applications can help customers spot the card that is best for them from some of the biggest names in the industry, including Capital One, Citibank, American Express, Chase, and more. They also have an excellent selection of credit card offers in all credit categories, such as credit cards for fair credit applicants. Their credit card search engine allows users to do a customized search of the the many types of credit card features.
As the holiday fast approaches, Credit Card Applications is set to help customers maximize their potential for acquiring the right credit card to use this holiday season and beyond.
About Credit Card Applications
CreditCardApplications.com is dedicated to helping customers find the best credit card for them. Their website is designed to provide a user-friendly, fast and easy way for customers to narrow down their credit card search. They utilize special filters that can serve multiple functions like guide users with poor credit to appropriate cards or find rewards cards for frequent travelers, and more. They have access to some of the most well known and trusted names in the industry, such as Credit One and Citibank. In addition, their process allows customers to select the credit card(s) that best suites them before they officially apply for them; this system reduces time wasted and possible dings from credit inquiries. For more information, visit http://www.creditcardapplications.com or follow them on Facebook, Twitter or Google+.