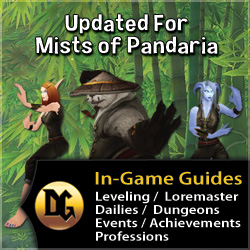 (PRWEB) December 08, 2012
Gamers who want to master MoP are looking for the best power leveling guides on the market. To date, one of the most beloved guides happens to be the Dugi's Ultimate WoW Guide, which recently got a makeover with the release of their new Mists of Pandaria leveling update. It has proven to be a true guide that shows players step-by-step tips for leveling up the fastest.
The goal this time around for MoP players is to reach level 90, an upgrade from the previous level 85 goal. This was updated at the time of the Mists of Panderia release. Ever since, World of Warcraft gamers have been searching for the best guide for MoP and so far, this seems to be one of the top. Gamers have shown very fast results, some getting to level 90 in less than five days of playing time.
Dugi's Guide comes with an automated system that can set the character on autopilot. The guide also features a variety of other guides that are compatible with any character a player has. Gamers are shown the way and can even play zones in any order they choose, allowing for faster leveling capabilities. This comes in handy when certain zones are overcrowded with other players. The details in the Dugi Mists of Panderia Guide are extensive compared to other MoP guides. It's so detailed that it will tell players who to talk to and when.
Getting fast points is every WOWers goal, which is why a MoP leveling guide is widely sought after. Unlike with traditional guides that require players to read as they play, the MoP guide is installed directly onto the computer. This makes the guide more comprehensive and useful, since it shows what needs to be done right before the player's eyes.
There is an update available for the MoP guide, which comes with even more features. It comes with between 60 and 90 instance guides, 100% legal Blizzards rules that won't get players banned and a pro ultra-compact in-game map and quest helper. For the first-time World of Warcraft players, there is an 85-page beginner's guide that comes along with it. At certain sellers, buyers of the guide will receive a two-month money-back guarantee.
Learning how to overcome achievements and take on the right missions at the right times is imperative for gamers to get ahead in WoW. With the assistance of the WoW MoP leveling guide, gamers are able to do only what's needed, so that they can get to level 90 without doing more than they have to.
Dugi's Guide new update has just what WoW players need to level faster. More details at Strategy Guides HQ.