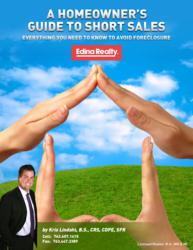 I am releasing a Minnesota Short Sale Calculator website
Blaine, MN (PRWEB) December 02, 2012
"I get numerous calls and emails per day from people that are wondering if they are short sale eligible," Kris Lindahl says. "I am releasing a Minnesota Short Sale Calculator website that those people will be able to access 24/7 to check their eligibility and get personalized help."
"I have assembled a very experienced team to help with all of the people that contact me for short sale help," explains Kris Lindahl. The Kris LIndahl Short Sale Team includes hard working, full-time Edina Realty realtors that hold designations like Certified Distressed Property Experts (CDPE), Short Sale & Foreclosure Resources (SFR), and Council of Residential Specialists (CRS). The team specializes in working with general residential real estate, first-time home buyers, and distressed property sales.
"I've also recently published an eBook that will be of tremendous help to anyone looking for answers to their short sale and foreclosure questions," Kris Lindahl explains. The eBook, which is available for complimentary download at HomeOwnersGuideToShortSales.com, is titled "A Homeowner's Guide To Short Sales." A video series is also available to watch on different banks and lending companies' short sale processes.
Call the experienced real estate agent Kris Lindahl at (763) 447-3925 for short sale help. Visit the Minnesota Short Sale Calculator website to check eligibility.