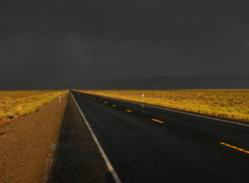 "Travelers of the Loneliest Road are well rewarded by the almost surrealistic intensity of the wild western landscape"
Pony Express Territory, Nevada (PRWEB) December 04, 2012
Highway 50 is Nevada's Pony Express route and America's Loneliest Road and it's also a place of untouched beautiful scenery and cultural heritage treasures. Locals from this area of Nevada's rugged west highlight these five New Year's resolutions for travelers to find on Hwy 50 in Nevada's Pony Express Territory.
1) Stay True to the Great Outdoors
All across the Territory, it's about the vast dark night skies and a chance to breathe in the purest fresh air. For outdoor adventure, there's star gazing in Great Basin National Park near Ely and hit the mountain bike trails of Austin or the world-renown birding in Fallon. Surrounded by breathtaking untouched landscapes, 14 mountain passes and diverse scenic choices await the traveler.
2) Don't Believe in Fairytales
Historic Hwy 50 is the real deal and the route of Nevada's Pony Express Territory is no fantasy although it's hard to believe you can land in a place that offers a feeling of isolation, scenic beauty, friendly locals and rich cultural heritage all in one. See what people are saying about this part of America's Rugged West at facebook.com/ponyexpressnevada
3) Take Time to Reflect
For those living along Hwy 50 through the middle of Nevada, it's not really so much about America's Loneliest Road as it is about the chance to unplug. Spencer Hot Springs near Austin is one such place. The cluster of natural springs with no amenities can provide a soothing respite to travelers who can enjoy a comforting soak after a long day of exploring the region.
4) Learn Something New
Families and cultural heritage advocates will find educational adventure at archeological sites and ghost towns. Discover rich informative American history on historical walks in each of the six Hwy 50 towns. Ely's Nevada Northern Railway is an interactive living museum featuring customized tours and original technology. The Territory has numerous sites on the national and state historical registry. Immerse yourself here while you plan your travels in person (recently shot video): http://patrickmediallc.com/pexp_trailer.html
5) Do What I Can't Do Anywhere Else
Too many to name in Nevada's Pony Express Territory but to get started, here are a few:

Nine rank Henry Kilgen Pipe Organ found in Austin's St. Augustine's church (Nevada's oldest church) is the only one in the world.
Pull the throttle and operate an original Steam Locomotive at Ely's Nevada Northern Railway.
Catch a 'live' performance at the 121 year-old Eureka Opera House, No. Nevada's only fully operating state-of-the-art historic site open to the public.
Cave explorations such as 'Toquima' near Austin, a religious site of Native Americans with pictographs between 3,000 and 1,500 years old. The magnificent ornately decorated limestone cave 'Lehman' with ranger-guided tours. And, Fallon's 'Hidden Cave' an important archeological dig site.
Most Unique Events include Fallon's Tractors & Truffles, Lahontan Valley Wetlands Spring Wings Birding Festival and don't forget about Burning Man near Fernley.
"Travelers of the Loneliest Road are well rewarded by the almost surrealistic intensity of the wild western landscape," stated Rick Gray, Pony Express Territory spokesperson. "Deep blue skies and jagged stone tower above the bone white desert floor making this part of Highway 50 one of the most beautiful and interesting drives you'll ever take," he continued.
NEVADA'S PONY EXPRESS TERRITORY encompasses 17 million acres and 1,840 miles of wide-open space, rich cultural heritage, rugged undisturbed nature and black night skies. The Territory is where the Pony Express riders once galloped along its main trail, now Highway 50 with the six adventurous friendly towns of Dayton, Fallon, Fernley, Austin, Eureka, Ely and one national park, Great Basin. Twenty years ago Life Magazine designated Nevada State Highway 50 – "America's Loneliest Road." For info., visit PonyExpressNevada.com or call 1-888-359-9449. Follow us at Facebook.com/PonyExpressNevada and on Twitter@PonyExpressNV.