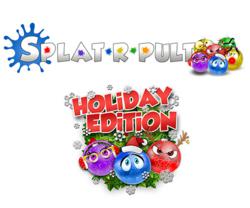 "It's been so much fun working with the developer on this game over the past few months," says Linendoll. "We're really excited to show everyone the new holiday content."
New York, NY (PRWEB) December 04, 2012
SPLATRPULT's Holiday Edition takes the player on a wintry journey through a frozen Splatopia to reach the once-glorious Splatopian Pine Tree. Level by level, players work to restore color and reach the tree, which is the greatest symbol of holiday spirit in all of Splatopia.
The expansion, which is illustrated for the holidays, includes all new Splatty art, new music and hilarious new one-liners from our heroes, the Splatties. Players will travel over a holiday map to locations like The Candy Cane Cliffs and Great Gift Wall. Classic SPLATRPULT gameplay ensues, with the player launching paint balloons at each level's artwork.
Katie Linendoll, who is a TV host, producer and writer with ESPN, Spike TV and other outlets, returns to provide her vocal stylings to the character (and fan favorite) Purpie, the purple Splatty. "It's been so much fun working with the developer on this game over the past few months," says Linendoll. "We're really excited to show everyone the new holiday content."
SPLATRPULT's main 15-level game, available on the App Store, remains free to download, while the holiday edition is available as a 99-cent in-app purchase. To learn more go to splatrpult.com.
StevieSpin Digital Media Inc. is a startup headed by graphics and motion veteran, Steve Lunny. The company's focus is fresh and innovative one-thumb mobile experiences that are accessible to everyone. SPLATRPULT is the company's first game, with several others in the queue waiting for their turn to be produced. SPLATRPULT has been featured on Spike TV's All Access Weekly, where game designer Steve Lunny spoke about his experience creating the game as a first-time indie developer.