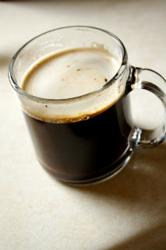 Nuvia Trim will be represented at booth #1013 at the SOHO Expo in Orlando.
Jacksonville, FL (PRWEB) December 07, 2012
Nuvia Cafe reports that sales of the brand's original coffee continue to rise as Nuvia's new line of healthy weight management coffee is being introduced to the market.
The original line of coffee is a gourmet instant coffee that is made with 100% Sumatran Arabica bean coffee. It's one of the first coffees to be sold in retail stores with an infusion of popular all natural supplements to add a healthy boost.
The first of these extracts, ganoderma is high in antioxidants and has been shown to help boost the immune system. African Mango, the second addition, is used as a natural weight loss supplement, and the last is Pomegranate, another antioxidant super-food extract.
Nuvia Trim, the company's new line of coffee, is made with the same 100% Sumatran Arabica bean as Nuvia Cafe Original. It also has a blend of supplements directed at healthy weight loss.
"Nuvia Trim has raspberry extracts in it which gives us a unique fruity scent that our customers love. Along with the African Mango and Ganoderma extracts that we have in the original Nuvia, Trim also has Green Tea with ECGC, as well as other natural extracts and anti-oxidants that have been shown to help slow the release of sugar into the bloodstream. It's very popular with health food store owners." says Brad Mills, co-Founder of Nuvia Cafe.
Green tea has been shown in recent studies to help regulate blood sugar levels along with the many other health benefits that are already attributed to consumption of green tea on a regular basis. The company is hitting a stride with retail owners who see the benefit to having a 'Green Coffee' to offer their customers who like the benefits of green tea but prefer to drink coffee.
"Traditionally with the onset of winter, coffee demand goes up. Combine that with January being the biggest month for weight loss product sales, the combination of cold weather and the convenience of having your morning cup of coffee help you lose weight makes a product like Nuvia Trim a great choice for store owners." says Mills.
You can see Nuvia Cafe at booth #1013 at the SOHO Expo in Orlando, Florida from December 8-9 2012.
--
Elizabeth Ann
Publicity
http://www.nuviacafe.com
888-609-4572
Nuvia Cafe was founded in 2011 with the goal of making coffee healthy and great tasting. The company offers robust instant coffees that are rich and full bodied, infused with high quality natural supplements. Nuvia's line of gourmet instant health coffees have been popular with store owners, retail customers and food bloggers alike.