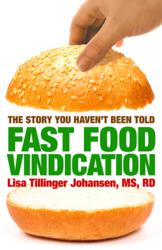 Astonishing. An enlightening read.
Los Angeles, CA (PRWEB) December 03, 2012
Lisa Tillinger Johansen, a California author and registered dietitian has garnered rave reviews on her new book FAST FOOD VINDICATION, ranging from the prestigious review outlet Kirkus Reviews, which called the book, "Thoroughly researched…A cogent examination of the positive side of fast food, presented in a fresh, clear style," to Midwest Book Review that said: "Fast Food Vindication is perhaps most valuable for its exhortation that the reader think carefully about his or her nutritional choices, and not listen too closely to either positive or negative hype when making nuanced judgments. Highly recommended."
Pacific Book Review said of the book: "Fast Food Vindication is as important for people to understand as an urban survival guide or financial advice" while BOOKVIEWS reviewer Alan Caruba, a charter member of the National Book Critics Circle added that the book "…dispels the widespread belief that Americans are getting fat because of the fast food outlets throughout the nation." And in the words of ForeWord Clarion Reviews: "Provocative. Compelling. Johansen's breezy style makes Fast Food Vindication easy to read."
Reviewer Norm Goldman of bookpleasures.com commented on FAST FOOD VINDICATION saying in his review: "…trust me on this one, give the book a chance and you won't be disappointed with this engaging and informative investigation of the fast food industry. Johansen has done an excellent job in organizing her material and backing up her arguments." Independent Professional Book Reviewers reviewer Melissa Brown Levine commented: "Fast Food Vindication is an enlightening read that thoroughly educates readers about the fast food industry. It also puts the responsibility of eating healthy for a better life squarely on the shoulders of consumers."
In FAST FOOD VINDICATION, Johansen takes a lively, informative and realistic look at our eating habits, and, using her expertise and experience as a hospital dietitian, seeks to educate readers on making smart dietary choices no matter where they eat.
"The book refutes the notion that fast food is an evil force in society," Johansen says. "The laser focus on fast food being the cause of the obesity epidemic is not true, nor is it the complete picture. There's so much press about how fast food is detrimental to us. In reality, that's not the case. It's about how we eat. We can eat poorly at home and at sit-down and fast-food restaurants, but we can also make healthier choices at all of these places. The majority of us don't make great choices. We need to look at everywhere we eat and how we eat. Personal responsibility plays a big role."
Johansen has been a hospital dietitian for the last four years. "I speak to many patients about weight management and a host of disease states and conditions. What is very clear is that many of these individuals are looking for guidance and education in eating healthy meals, including fast food."
"Fast food restaurants make big and easy targets," Johansen maintains. "So many of us eat at them, and, unfortunately, so many of us are overweight or obese. But research has shown that we eat the majority of our meals at home, so restaurants of all types are just a part of the puzzle."
With the publication of FAST FOOD VINDICATION, Johansen hopes to "present the side of an issue that hasn't really been discussed much in the media. By doing so, it should ultimately help people to learn to look at the big picture and make appropriate changes to their diets as needed."