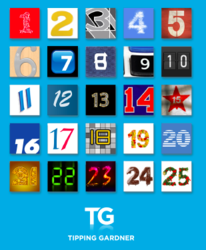 New York, NY (PRWEB) December 04, 2012
Gangnam Style, FIfty Shades of Grey, and Mondelez are some of the brands that can be found on TippingGardner's 2012 branding advent calendar. Every day from December 1 through December 25, the calendar will unveil a new brand-related story selected by TippingGardner's team of brand strategists, designers, and writers.
"Twelve months is a long time in branding" said Martyn Tipping, CEO of TippingGardner. "As 2012 winds down, it's good to take a look back at some of the branding stories that have captured our imagination, and attention, over the past year."
The branding advent calendar - or brandvent calendar, as Tipping calls it, can be seen at TippingGardner's Facebook page or at http://www.tippinggardner.com/holiday2012.