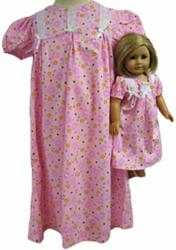 "Our fantastic selection of sleepwear for girls and dolls feature two identical pairs of pajamas: one in your daughter's size, and one made to fit a her doll. Your little girl will love being able to match her doll at night. Our coordinating sleepwear set
(PRWEB) December 03, 2012
The night times can be fun times for little girls and families. It is a time for listening to favorite stories and reminiscing of fun times of the past and discussing fun times that lie ahead. There can be a reluctance to go to sleep, but this can be minimized. Little girls love to dress themselves and their dolls in matching clothes, so make bedtime exciting by giving your favorite little girl matching nightgowns or pajamas for herself and her dolls or stuffed animals. An adorable photo moment is a little girl snuggled with her doll or stuffed animals in matching sleepwear.
Doll Clothes Superstore is the one stop website for shopping opportunities with a wide variety of sleepwear for little darlings and their little darlings. This season Mary Ann, President of Dolls Clothes Superstore takes this to brief about their new collection of sleepwear.
"Our fantastic selection of sleepwear for girls and dolls feature two identical pairs of pajamas: one in your daughter's size, and one made to fit her doll. Your little girl will love being able to match her doll at night. Our coordinating sleepwear sets are available in a variety of colors and styles, so you'll find the perfect pair of pajamas for every type of little girl. We offer two-piece sets as well as nightgowns, so your daughter and her baby will be comfortable in any season."
Dolls Clothes Superstore has unveiled their December collection. The matching girl and doll sleepwear pajama sets are made of soft, comfortable materials like cool cotton and smooth, luxurious satin. Whether it is a casual night or a special sleepover, these are perfect doll clothes for your little girl and her doll that fit most popular toys in the market, such as American Girl and Bitty Baby. All these are available says Mary Ann, President of Dolls Clothes Superstore, for unbelievably low prices.
To top the list is a pretty pink cotton nightgown. It is a great nightgown for a sleepover at Grandma's house or a special sleepover. A popular color with girls; this light pink background looks perky with bespeckled designs of pink and white daisies. Adding more color, more liveliness to it are small gold flowers and green leaves that are interspersed. The bodices of the nightgowns have white cotton lace trims. A white ribbon satin bow at the end of the lace adds a whimsical touch. Both the girl and doll nightgowns are available in several sizes. The doll nightgowns comes in three sizes;American girl doll clothes size which will fit all 18 inch dolls such as Our Generation dolls, Journey Girls and Maplelea . The baby doll size fits baby dolls in the 14-15 inch size category such as Bitty Baby. The Cabbage Patch Kid doll size fits Cabbage Patch Kids and chubby necked baby dolls.
All time fun and playfulness blended into one, another new line in the matching girl and doll sleepwear from Doll Clothes Superstore are the Hello Kitty nightgowns. Lime green colored cotton nightgowns, available in several sizes, are a mélange of broad stripes, plaids, multi hued polka dots and little hearts with Hello Kitty prints on them. The bodices of the nightgowns have three rows of white satin trims. These Doll nightgowns can be bought separately and are available for American Girl Dolls, baby dolls, and Cabbage Patch Kid dolls.
A girls' world is usually sunny and bright. Keeping this in mind, Dolls Clothes Superstore has unveiled another part of their December collection; a sunny yellow satin nightgown. These kimono style night gowns have cute little stars and moon prints. While little bears are holding onto the stars, the words "Catch a Falling Star" are randomly spaced on the print.
Doll Clothes Superstore is an online-based doll clothing company, committed to providing top quality merchandise at affordable prices. Doll Clothes Superstore has doll clothes for the most popular brands of dolls on the market, like Barbie and Ken, GI Joe, American Girl dolls, baby dolls, including Bitty Baby, My Twinn and Cabbage Patch Kid dolls, Beanie Babies, and stuffed animals. In addition to this, Doll Clothes Superstore also offers doll accessories such as shoes, jewelry, hair clips, umbrellas, and hangars, as well as matching girl and doll clothes. Doll Clothes Superstore is independently owned and not affiliated with any doll manufacturer.