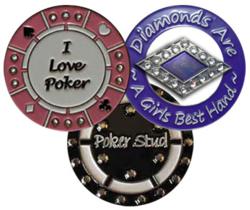 Nothing makes us happier than adding new partners, especially ones that help us fulfill the desires of our customers.
College Station, TX (PRWEB) December 03, 2012
The Texas Poker Store is expanding again, this time into the custom card covers, card guards, and custom spinners market for the poker player who already has all the standard spinners that TPS carries in their collectibles and novelties departments.
"With this expansion, we're looking to distribute specially made, custom-designed card guards, covers and custom spinners from various manufacturers so we can provide the widest choice possible to our customers," said Jim Paris, owner and Chief Dealer at the Texas Poker Store.
When players are not looking at their cards, the standard rules are that they must place their cards face down on the table in front of their poker chips. Placing a poker card guard over their cards protects them from being accidentally exposed, fouled, or folded.
"In fact," Paris explains, "if you watch this amazing video to see the shocking result of what happened to Estelle Denis at the WSOP, you'll understand why you need card guards to protect your hand." http://youtu.be/IlGSXlDB-GA
To launch this new category, the Texas Poker Store has joined up with Poker Pets LLC, a Nevada company that specializes in limited edition and custom card protectors and spinners that are well suited for the professional as well as the amateur poker player. It also carries several existing designs that were created to appeal to the many excellent women poker players in the field today.
Paris added that one of the new custom spinners will be put to good use immediately. "We were running a "Click-it-to-Win-It" contest on our Facebook site, and the winner is Sara Dunlop, Texas A&M class of '15, a member of a fantastic service organization called CARPOOL. She informed us that she would be donating her TPS Texas Holdem mirror to the auction at Gala, the fundraising event the organization is holding on March 2, so we decided to reward her generosity with her very own custom spinner."
"With the help of Poker Pets, LLC, we will now be able to satisfy our customers' requests for their own personally designed covers and spinners," Paris stated. "Nothing makes us happier than adding new partners, especially ones that help us fulfill the desires of our customers."
About Texas Poker Store
Located in College Station - Bryan, Texas, the Texas Poker Store is a fully-stocked online poker store that offers 100 percent secured shopping and features hundreds of poker supplies. The Texas Poker Store was founded by Poker Lovers and Die Hard Players, Jim and Lynn Paris. We live in Texas, we play Texas Hold 'em and we welcome you to visit our store. You can find the Texas Poker Store at http://www.texaspokerstore.com, visit their blog at http://www.texaspokerstoreblog.com, and follow them on Twitter, FaceBook and on Pinterest.
Jim Paris
Chief Dealer
Texas Poker Store
302 N. Bryan Street
Bryan, Texas 77840
1-866-213-1594
979-595-7390