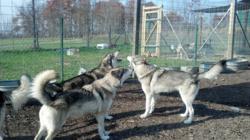 My Pack of Wolves Sanctuary will sponsor several "howl" nights per year so anyone can come listen and share in these majestic voices they have!
Mayfield Heights,Ohio (PRWEB) December 04, 2012
Corporate sponsorships occur when businesses such as non profit animal rescues team up with local companies to help with financial contributions and/or business supplies,goods, or products. How it works is that a corporate sponsor makes a donation or offer of services to a an animal rescue and in return gets not only a good marketing opportunity for the sponsor but satisfaction in knowing its a good community investment as well. There are different levels and support offered by the animal rescue. My Pack of Wolves Sanctuary is offering everything from lifetime membership cards and calendars to lifetime newsletter subscriptions and links on its website as a thank you!
Among the rewards for sponsoring and aligning any company with My Pack of Wolves Sanctuary are:
1. To align with a well respected and growing 501 (c)(3) non profit organization.
2. Create awareness of corporate identity and portray a positive image to your current stakeholders as well as a new audience of potential employees and customers.
3. Provide a great opportunity for employee involvement,whether it's team building in a group volunteer experience, or a campaign to generate employer-matched gifts.
4. And, a year round promotional opportunity for your company.
The most important part of of the journey for My Pack of Wolves Sanctuary to become a rescue is the need to raise money for land for the animals as well as getting all the necessary materials such as concrete,wood,housings, fencing and even wells dug for an abundance of water. Once all building is completed there are so many plans that need to be incorporated! One of the most important aspects to the sanctuary is the focus on continuing educational programs and workshops. Next, activities would include visits to community groups and schools with the ambassador wolves and the Adopt-A-Wolf program. Also from Halloween week festivities and weekend wolf tours (full moon!) to sponsorships and the upcoming 2013 newsletter! At this point t-shirts,fleece jackets,windbreakers are being created with the logo and slogans.
http://mypackofwolvessanctuary.org/index.php is the perfect place to check out pictures of the types of land needed as well as enclosures to be built with building ideas as well. There are numerous pictures of the animals themselves as well as on Twitter and Facebook. At this point any little amount helps and gets the rescue that much closer to realizing its goal of becoming one of the largest in NE Ohio!