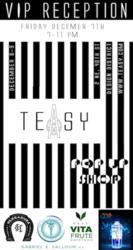 Miami, FL (PRWEB) December 03, 2012
Teasy Clothing announced today that it will host a VIP Reception Friday, December 7th from 7pm-11pm, in the heart of the Design District at the Miami Center for Plastic Surgery, practice of Dr. Gabriel Salloum, 2 NE 40th St., Miami, FL. The VIP Reception will premiere the 2013 Collection, never before seen, with a limited number of pieces for purchase.
Marielee Perez, Teasy Co-Creator and Co-Founder, said "Premiering our 2013 Collection during Art Basel is a perfect fit because all of the graphics and patterns begin as hand painted pieces. Marielee Perez went on to state "Our goal was to create fashion forward key pieces that would be wearable all year long, easy for travel, and would complement what women already own. I think we nailed it."
Cynthia Dalagelis, Teasy Co-Creator and Co-Founder adds, "We both passionately love Miami and feel strongly about manufacturing our clothing locally. We want to support Miami businesses and hopefully create local awareness."
The exhibition will be open to the public Saturday, December 8th and Sunday, December 9th from 11am-9pm.
Veev Vitafrute All Natural cocktails and Gem Spring Water will provide complimentary drinks as well as Herradura Tequila, for the Pop-Up experience.
To RSVP for VIP Reception, Friday, December 7th email: RSVP(at)Teasy(dot)com.
About Teasy
Teasy Clothing is a Miami based Women's graphic knitwear bran created and manufactured locally by friends Cynthia Dalagelis and Marielee Perez. Teasy has been sold online since 2011; this will be the first in store exhibition. Teasy creates effortlessly cool knitwear at an affordable price with superior draped quality fabrics. Every design is hand crafted and the imagery is the heart and soul of the brand. Visit http://www.Teasy.com and http://www.facebook.com/Teasyclothing for more information and @ TeasyClothing on Twitter and Instagram. Come join us as we introduce Teasy to the world.
About VeeV® VitaFrute™ Cocktails
New VeeV® VitaFrute™ Cocktails are the first line of organic and all-natural superfruit cocktails from the makers of VeeV Açai Spirit®. Available in Margarita, Lemonade and Cosmopolitan, VeeV VitaFrute Cocktails are made with only the freshest ingredients that taste great naturally. VeeV VitaFrute Cocktails will be available in Chicago, Los Angeles, Miami, New York City and throughout Texas in September 2012, with national distribution in early 2013. Visit VeeVlife.com/Vita-Frute and Facebook.com/VeeV for more information, or follow @VeeV on Twitter. VeeV® VitaFrute™ Cocktails. A Better Way to Drink™.