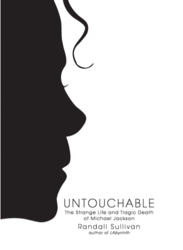 I'm here today to protest a vicious, malicious, disgusting campaign to try and stop people from reading a very positive book about Michael Jackson.
Los Angeles, CA (PRWEB) December 02, 2012
Thomas A. Mesereau, Jr., Michael Jackson's lead lawyer in the last years of his life, delivers an extraordinary YouTube statement in response to a concerted internet smear campaign to malign a positive portrayal of Michael Jackson in Randall Sullivan's book "Untouchable: The Strange Life and Tragic Death of Michael Jackson." Mr. Mesereau takes issue with "disgusting" and "deceitful" efforts to suppress Michael's fans and others from reading this thoughtful and in-depth book of the life of Michael Jackson.
Mr. Mesereau, who does not have a financial interest in Mr. Sullivan's book, encourages Michael's fans, and those seeking a thorough understanding of the life of one of our greatest talents, to read this well-researched and insightful book. To view Mr. Mesereau's YouTube statement, visit http://www.youtube.com/watch?v=iPBxohzPm-8.
"Untouchable" by Randall Sullivan is available for purchase in bookstores worldwide and on Amazon.
Thomas A. Mesereau, Jr. is best known for defending and obtaining an acquittal on all fourteen charges against the late music legend, Michael Jackson, in the most watched trial in legal history. Mr. Mesereau is widely recognized as one of the best trial lawyers in the country. He has been selected by his peers as one of "The Best Lawyers in America" and has been listed as one of the "One Hundred Most Influential Attorneys in California" by the Los Angeles Daily Journal, the leading legal newspaper in California. Mr. Mesereau specializes in the defense of white-collar criminal cases (corporate and individual); physicians and health care practitioners before the California Medical Board and other administrative entities; and violent and non-white-collar crimes. Mr. Mesereau is also widely recognized for his 28 years of "pro bono" free legal work for the poor and under-represented. Mr. Mesereau is a well-known presence in the African-American community where he operates a free legal clinic and assists local organizations and churches in drug recovery and youth counseling. For the past fourteen years, he has defended at least one death penalty case each year, for free, in the Deep South. For more information on Mr. Mesereau's boutique law firm, Mesereau & Yu, LLP, please visit http://www.mesereauyu.com/
Media contact: Kelley Coughlan at Melrose PR, Kelley(at)melrosepr(dot)com, (310) 450-7960, http://www.melrosepr.com