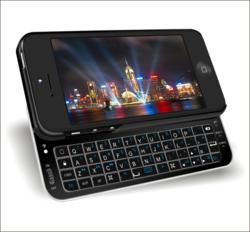 Yet another example of precision workmanship from MiniSuit
New York City, NY (PRWEB) December 05, 2012
World's largest distributor of electronic accessories MiniSuit has just announced the launch of Bluetooth Sliding Qwerty Keyboard and Case for iPhone 5. This multipurpose accessory is yet another example of precision workmanship from MiniSuit, and offers tons of user friendly features. It must be mentioned here that the company already boasts of an impressive stock of accessories for cell phones, gaming consoles, cameras, laptops, GPS devices, tablets, and MP3 players. With the Christmas just around the corner, this new range of cases for iPhone 5 with a keyboard can certainly be an excellent gift idea for the loved ones.
With changing times, the gift preferences for the technology-savvy generation of buyers have changed significantly over the years. The new iPhone 5 cases from MiniSuit allow more screen space, thanks to the sliding Bluetooth wireless keyboard. Typing becomes a breeze with these accessories because of the raised keys. Typing in poor light is no longer a problem because of its backlighting feature. With the help of these cases, users can manage their calendar, reply to text messages, and answer their emails. These high utility cases for iPhone 5 with keyboard allow access to all types of cameras, jacks, buttons, and ports, and are easy to install.
The complete package introduced by MiniSuit includes Bluetooth version 2.0 Wireless keyboard integrated with the case, cable for USB charging, and instruction manual. The advanced keyboard for iPhone 5 can be can be switched off to save power during idle periods. The product is compatible with the iPhone 5 version of Sprint, Verizon, and AT&T. These iPhone cases with keyboard certainly have all the ingredients to make an amazing Christmas gift for the loved ones. Anthony L. Nguyen, one of the earliest buyers of these new accessories from Minisuit, thanked the manufacturers saying, "Going from a G2 to the iPhone, a physical keypad was what I was missing. The touch screen keypad is great and all but I like the feel of a real keypad. Minisuit provided exactly what I needed".
About the Company: MiniSuit is the largest and the most preferred distributor across the globe for a wide range of electronic accessories. The company has just announced the launch of an exciting range of multipurpose keyboard and case for iPhone 5.