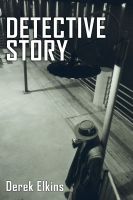 New York, NY;Washington, DC;Los Angeles-Long Beach, CA;Chicago, IL;Kansas City, MO (PRWEB) December 02, 2012
Bard and Book Publishing announces the release of "Detective Story", a short story written by Bard and Book author Derek Elkins. "Detective Story" becomes part of Elkins' "2012 Collected Works of Derek Elkins," which was published in May 2012. Elkins was also the first place winner of the Athanatos Christian Ministry 2012 Novel Contest for his book "Life Unworthy of Life".
"Detective Story" takes a comedic look at a detective, minding his own business, who is brought into a web of intrigue and murder by a mysterious lady. As he delves further into the morass, every meeting holds a beating and every step ends in confusion.
Elkins is also the author of other works through Bard and Book Publishing, including: "How To Take Over the World and Enslave Mankind Using Common Household Items, Book One: Your Own Personal Undead Army", "The Trouble with Bricks", "Bedlam's Door", "Three Conversations" and others.
"Detective Story" is available for download at Amazon and Bard and Book members can download for free with a 100% off coupon redeemable on Smashwords.