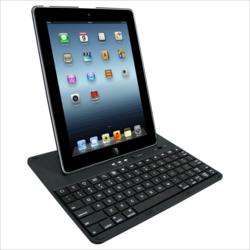 MiniSuit's latest iPad keyboard case easily converts tablet devices to laptops and offers reliable protection at the same time.
New York City, NY (PRWEB) December 12, 2012
Yet another excellent product from MiniSuit has just hit the market amidst great expectations from iPad users. The most reputed distributor across the globe for electronic accessories has recently come up with a new product that is a combination of an iPad case and keyboard. MiniSuit already offers a comprehensive range of electronic accessories for cell phones, laptops, cameras, MP3 players, gaming devices, and much more. The biggest benefit of the new iPad case keyboard is that it can provide a user experience that can be compared to that of using a Laptop.
These iPad keyboard docking station covers from MiniSuit are made from high quality Acrylonitrile Butadiene Styrene or ABS, providing a rubberized grip for additional safety. This three in one product comprises of a user friendly Bluetooth keyboard that can be carried easily. The keyboard has a 360 degree rotating dock that is also removable. As a result, finding a comfortable viewing position for the iPad becomes amazingly easy. These lightweight yet sturdy Bluetooth iPad keyboard cases are compatible with iPad 2, 3, and 4 tablets. They have a standby time of 50 hours and require 2 hours to get charged.
Since the official launch of iPad, different companies around the world have tried their best to come up with many useful accessories to tempt its owners. These keyboard cases from MiniSuit certainly appear to be different from the rest in the market for more than one reason. Like all their products, the new line of case for iPad and keyboard from MiniSuit is the result of months of research, development and study. Announcing the launch of the latest iPad keyboard cases in the market, a senior spokesperson from MiniSuit said, "We are extremely happy to announce this launch just in time for the upcoming holiday season. Visit our website to find out more about our new iPad keyboard cover and many more highly useful accessories".
About the Company: MiniSuit is the largest and the most preferred distributor across the globe for a wide range off electronic accessories. The company has just announced the launch of a new product that is an excellent combination of an iPad case and keyboard.