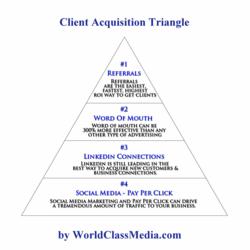 Referrals are the fastest, easiest and most rewarding way to get your ideal clientele. Mix this with powerful Social Media Marketing strategies and growth is inevitable.
Los Angeles, CA (PRWEB) December 05, 2012
On December 1st, World Class Media released their new 1000X Referrals Training.
This Press Release gives a single example of one of over 100 techniques they give you to help double your referrals and clientele in their referral training course.
Who this applies to: all businesses. Here's an example:
How an Orthodontic Practice got a ton of referrals.
Most referrals come from general Dentists. And instead of the Dentist Office going to visit other offices, taking them a basket of muffins or whatever, they now invite Dentists to the Ortho's office for what they call "Lunch & Learn".
This Orthodontist has every office (about 25 dental offices) come for lunch usually about every six months. So a couple of times a year they all come. They come with their entire staff. They always provide very professional services for the Doctor's family and for his staff. But Doctors never saw it firsthand. It makes the impression that much more ingrained in their mind and creates much more friendliness.
So now that this Orthodontic Practice has Dentists coming to their office for lunches they also give them a professional tour of their office. They show them what they do there. And during that lunch it's their opportunity to share with the Dentist all the things that they can do for them and, as partners with them, to be a team for their Patients in orthodontic care.
The results have been incredible.
It's very seldom that a Dental Office comes and, as a result of being there, they don't at least start one of the Dental staff's children or their assistant's child or their hygienist or one of their assistants starting treatment. The Orthodontist feeling is if they start their staff and their children and their families in treatment, then they're going to tell their patients that's who to go to. They also give them preferential rates.
They started these tactics eight years ago – at that time the practice was producing about $300,000 a year + they had 27 employees at that time. And today they have only ten employees and they had their first million dollar year this past year.
World Class Media is a Southern California based company that provides "Result Based Marketing - Proven Online & Offline Design Strategies" to expert businesses. World Class Media has consistently increased traffic and leads and client acquisition to its clientele. WCM is one of the fastest growing companies in the Marketing & Design space. For more information, please call 888.924.7778 or visit WorldClassMedia on the web.