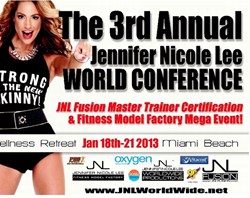 JNL Fusion Workout Method is the hottest fitness trend to date. It works because of Super Spiking. Now JNL Fusions Gyms are now in hot demand. The 3rd JNL World Conference is being held Jan 18-21 2013.
Miami, Fl (PRWEB) December 03, 2012
Jennifer Nicole Lee is a living legend, best-selling author and highly sought after fitness cover model. She designed the J and L fusion fitness workout system based on her own frustrations of needing to get maximum results in minimum time. She created JNL fusion which will help to lose weight, burn fat and build lean, sexy muscle tone. The workout method consists of 12 super spiking workout DVDs. Jennifer Nicole Lee states, "I must not only train my world wide clients but I must educate them on why my method works. J and L fusion workout method is superior for many reasons. It's effective, efficient and it saves money and time. It can be done anywhere, from your home, your kitchen, in your living room, in your backyard and even done in a group setting at all gyms."
The JNL Fusion workout method encourages and promotes safety, proper form and allowing the trainee to go at their own pace. Clearly it is seen that J&L fusion is for all fitness levels from beginner to intermediate to advanced.
Jennifer Nicole Lee and her team are now ramping up for her third annual J and L world conference being held January 18 to the 21st, 2013. This is the world's largest fitness wellness beauty conference. Unmatchable networking will help build resumes as all who attend will be meeting the movers and shakers of the fitness, wellness, and beauty industry. All who attend will be certified by Jennifer Nicole Lee and her head JNL Fusion master trainers. For more information please visit http://www.JNLworldwide.net.
With the J and L fusion workout method being in such high demand, Jennifer Nicole Lee and her team have now launched the licensing opportunity to license the name of J&L Fushion Gym to other training studios private workout facilities studios and fitness centers. Jennifer Nicole Lee states "we saw the huge demand from all of our highly trained J&L fusion personal trainers. We have certified master trainers in every corner of the globe. Many of them wanted the exclusive opportunity to get a piece of the action and own a JNL Fusion Gym. This is an amazing business venture as now every part of the world will have a JNL Fusion destination spot where all of our trainers and associates can meet, train, network, and host seminars at." For more information please visit http://www.JNLFusionGym.com