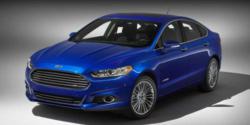 Ford Motor Company has made a long-term commitment to green transportation.
Campbell, CA (PRWEB) December 13, 2012
Surprise Pick for Green Car of the Year
Ford Motor Company's 2013 Fusion took the trophy for Green Car of the Year at the LA Auto Show this week. Green Car Journal presents the award each year at the event to a vehicle that offers competitive pricing, low carbon output, and efficient fuel usage. With an entry-level sticker price of $21,700, as well as a plug-in version that reaches 100 mpg-e, the car beat out an array of stiff competition in the category. Hopefuls, besides Fusion, the eventual winner, included Toyota's Prius C hybrid, Mazda's CX-5, the Dodge Dart Aero, and Ford's C-Max hybrid lineup. Over the years, the Green Car award has been presented to a diverse mix of environmental autos, going to the Chevy Volt hybrid-electric car at LA's 2010 show, and then to a compressed natural gas vehicle the year after, Honda's Civic Natural Gas. For the complete story, see:
http://www.myperfectautomobile.com/ford/green-car-year-2.html
EV Prices Trending Downward
With the newly revealed price of the Chevy Spark EV, and an announcement by Nissan that next year's Leaf electric car will see a price reduction, many industry-watchers are predicting an overall decline in EV prices. In Los Angeles this week, GM surprised many with the Spark's $25K sticker price, and Nissan is still offering a $199-per-month lease deal on its Leaf, making the pair among the lowest-priced EVs in the U.S. market. For the complete story, see:
http://www.myperfectautomobile.com/chevrolet-2/ev-prices.html
Green Marketer of the Year is Toyota
Toyota won the Green Marketer of the Year award from the Nielson Company, a consumer survey and consulting organization. The trophy was handed out at the LA Auto Show press days earlier this week. In order to win the top prize, a company must create a strong environmental image on television and in social media. Any auto manufacturer that ran green-themed ads during the past year was eligible to win the award. According to Nielson's research, Toyota made the biggest strides to capture consumer awareness and build positive buzz for green transportation. Besides Toyota, other eligible entrants were Nissan, Honda, Ford, and Chevrolet, but in the end, the maker of the Prius won out. For the complete story, see:
http://www.myperfectautomobile.com/toyota/toyota-green-marketer.html
New Study Reveals EV Owner Demographics
A new study by the Electric Vehicle Information Exchange (EVIX) has found that EV owners and enthusiasts tend to be more educated than the general public. The data pertains to drivers throughout the U.S. market, while the sample population included those who own, lease, or show a strong interest in EVs. Overall, the study revealed that those who are interested in electric vehicles have pragmatic personalities and are more intelligent than the average car buyer. For the complete story, see:
http://www.myperfectautomobile.com/electric-car-2/ev-owners-survey.html
About MyPerfectAutomobile:
MyPerfectAutomobile (MPA), a California-based news source for the hybrid, electric, and alternative-fuel transportation sector, covers breaking news on the green car front.
The MPA flagship website has grown into a major presence on the Internet. It features a complete shopping mall as well as a free-to-list classifieds section for all things green. For advertisers, MPA offers the chance to be in front of over 20,000 readers each month who are interested in hybrids and electric vehicles, as well as sustainable transportation in general.
Bob Twaalfhoven: President and Founder of MPA, is an MIT-educated engineer whose primary interest is planetary sustainability.
Larry Judkin, General Manger and Sales Coordinator, has tasked himself with taking MPA to the number-one spot among green transportation websites.
MPA's offices are located at 307 Orchard City Dr., Suite 210, Campbell, Calif. 95008.
For advertising opportunities, contact MPA directly: Phone: 408-963-6427 Fax: 408-963-6730 Email: drivenmyperfectautomobile.com Web: http://www.myperfectautomobile.com