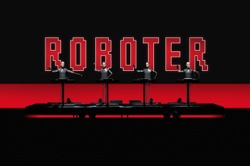 A sophisticated reflection of Kraftwerk's main music and show theme: the collaboration of man and machine.
Düsseldorf, Germany (PRWEB) December 03, 2012
Music photographer Peter Boettcher started shooting Kraftwerk performances at Düsseldorf's legendary Kling-Klang-Studio in 1991 and continues until today. The new exhibit "Kraftwerk Roboter" at Düsseldorf's NRW-Forum (January 12-30, 2013) is a collection of more than 30 large-scale photographs of performances from the past 20 years. This body of work forms an unusual exhibit of music photography: not backstage scenes, portraits of performers or snapshots of ecstatic moments in the audience or onstage, but instead a sophisticated reflection of Kraftwerk's main music and show theme: the collaboration of man and machine.
The images were shot at Kratfwerk performances all over the world, and they breathe the Kraftwerk universe of strict graphics and reduced shapes and colors. The objective of Kraftwerk's art is to create "sound images," and Boettcher's photography captures them perfectly as it seems to resonate the music of Kraftwerk and one of its most famous lines: "Wir sind die Roboter" (we are the robots).
The group Kraftwerk has its roots in Düsseldorf, where founders Florian Schneider and Ralf Hütter met as students in the late 1960s and soon developed their classic sound of synthesizers, drum machines, and altered, robot-like voices.
More recently, Kraftwerk has performed at the Biennale in Venice in 2005, installed a 3-D video show in Munich, and New York's Museum of Modern Art showed a Kraftwerk retrospective in April 2012.
Through 2013, Düsseldorf's tourism office is offering hotel and city specials for this and other of the city's art events. Packages can be booked right from the tourism office's website at http://www.duesseldorf-tourismus.de/hotelpakete. Prices start at €59 per night per person based on double-occupancy for a 2-3 star hotel in the city center and at €69 per person for a 4-5 star hotel. All packages include breakfast, a Düsseldorf Welcome Card (free public transportation within city limits plus 30 free or reduced admissions to city attractions), and a city information package. Most art-related hotel packages also include admission to the exhibit. Please check the website for current information.
For more information on the "Kraftwerk Roboter" exhibit, visit http://www.nrw-forum.de.
###
Düsseldorf Marketing & Tourism GmbH is the visitors and convention bureau of the city of Düsseldorf. Its responsibilities include tourism and city marketing, as well as conference and meeting marketing, hotel reservation services, fairs and convention services, city event ticket sales and advance ticket reservations. For more information, visit http://www.visitduesseldorf.de.
Düsseldorf International Airport, Germany's Next Generation HubTM, offers several non-stop flights from US & Canadian cities (Atlanta, Chicago, Ft. Myers, Las Vegas, Los Angeles, Miami, New York, Newark, Toronto, San Francisco, Vancouver), as well as convenient connections to many European cities. For more information about the airport, visit http://www.fly2dus.com and http://dus-int.de/dus_en/.