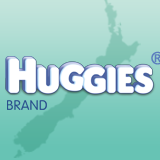 "We really look forward to collating this list for our members every 12 months. It's great to see which names have grown in popularity and to see the new names that come out each year."
(PRWEB) December 03, 2012
Huggies New Zealand has compiled their annual 'Most popular baby names' list.
With the help of their Huggies members, the New Zealand parenting and baby care site has put together a comprehensive database of 2012's 100 most popular names for baby boys and girls.
The list, which can be sorted by gender (male, female, unisex) and place of origin, is an excellent resource for people who are looking for the perfect name for their new child. Not only can parents-to-be find alternative versions of popular names, they can also access information on their derivation and meaning, as well as tracking popularity over time.
Codey Goodall, Brand Manager for Huggies New Zealand, is very happy to be continuing the list for 2012.
"We really look forward to collating this list for our members every 12 months. It's great to see which names have grown in popularity and to see the new names that come out each year."
Parents can also add their favourite names to a short list, save and print them or share with friends and family.
The Most Popular Baby Names for 2012 is available now on the Huggies NZ site.