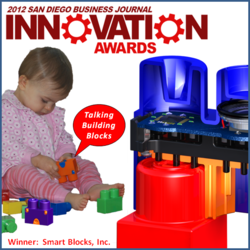 As both a parent and teacher, I am extremely impressed with the Smarcks … they are one of the most exciting toys we've ever featured
Vista, CA (PRWEB) December 04, 2012
Smart Blocks, Inc. is a family owned and operated business founded in 2007 to develop the world's first product which could combine the educational benefits of electronic toys with the wondrous creativity of kids building blocks. The inventor and CEO, Scott Seligman, was inspired by watching how his children played and envisioned the possibility of a new and unique educational and creative toy. Three years of development and testing by his three oldest children resulted in the first generation of the Smarcks – talking kids building blocks which have received a U.S. Patent, Dr. Toy Best Picks, Parents' Choice Approved, and the San Diego Business Journal Innovation Award.
Smarcks Smart Blocks perform all the functions of standard kids blocks but can also recognize the blocks they are stacked on. Mothers across America have been testing and reviewing the Smarcks. Over 50 Mommy Bloggers from 30 different states have written in-depth reviews applauding this exciting new educational toy. Cecilia from the website Cool Baby Kid is a mother of two with a PhD in education and wrote,
"… As both a parent and teacher, I am extremely impressed with the Smarcks … they are one of the most exciting toys we've ever featured…".
Smart Blocks has recently developed a second generation of the Smarcks. The inventor watched how his fourth child used the first generation Smarcks at 12, 18, and 24 months of age. He studied how her understanding of the blocks progressed and how her fine motor skills developed and realized there was a potential to make the Smarcks even better.
The new Smarcks are smarter and incorporate a progressive learning function. Very young children can only press the internal buttons or stack blocks on one block at a time. This is the discovery stage and Smarcks sing, play nursery rhymes and sound effects, laugh, and talk about colors and good manners. As children develop their fine motor skills they begin to stack Smarcks on two blocks at a time. Learning with the Smarcks now moves to a higher level with spelling, counting, math, and puzzle solving. The most exciting new Smart Block is the Mathematical Music Block which has a unique visual teaching method for learning math while solving a musical puzzle with flashing multicolored dancing lights.
The second generation of the Smarcks Smart Blocks was selected by Dr Toy as one the Ten Best Building Toys for 2012. Dr. Toy, Stevanne Auerbach, PhD, is an educator and one of the world's leading experts on play, toys, and children's products. The Dr Toy Ten Best Awards is one of the most prestigious honors in the toy industry.
For more information on Smarcks Smart Blocks, please visit http://www.talkingbuildingblocks.com/.
Smart Blocks Inc. is a U.S. owned and operated family business founded in 2007. Scott Seligman, inventor and CEO of Smart Blocks Inc., is a mechanical engineer with over 20 patents and 27 years of product development experience in aerospace, sporting goods, medical products, and children's toys.
Media Contact:
Smart Blocks, Inc.
3231C Business Park Drive #103
Vista, CA 92081
(760) 579-3566
Email: scott(at)talkingbuildingblocks(dot)com
http://www.talkingbuildingblocks.com