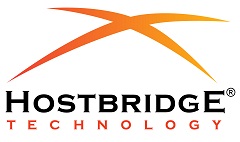 Stillwater, OK (PRWEB) December 03, 2012
HostBridge Technology, provider of integration software for CICS® and IBM System z, announces a live webcast presented jointly by HostBridge and IBM.
Presenters Andrew Bates, CICS TS Product Manager, and Russ Teubner, HostBridge CEO, will focus on new capabilities of CICS Transaction Server V5.1 and complementary technologies in the forthcoming release of HostBridge Web services integration software. The webcast will air live on Wednesday, December 5, 2012, at 11:00am EST. Those wishing to attend can register at: https://hostbridgeevents.webex.com/hostbridgeevents/onstage/g.php?d=806275207.
CICS, the world's premier enterprise class transaction processor, continues to deliver innovative technologies that enable customers to create and maintain competitive advantage. During the webcast, CICS Product Manager Andrew Bates will describe new CICS enhancements that meet customer requirements to drive operational efficiency, service agility, and cloud enablement.
Operational efficiency enhancements include new technologies that deliver greater capacity, improve operations management, increase system availability, and provide deeper insight into system usage and status. Service agility enhancements include first-class platform and applications management technologies as well as modern interface capabilities. These and other enhancements bring the flexibility of cloud deployment to customers' existing CICS assets.
HostBridge Technology, as it has done historically, will build on the new technologies with complementary capabilities for enterprises seeking to integrate CICS applications and System z data resources with other enterprise applications and systems, SOAs, and cloud architectures.
HostBridge CEO Russ Teubner will discuss how HostBridge will leverage and complement CICS TS V5.1 service agility/cloud enablement capabilities with improved application deployment, management, and monitoring to ensure that HostBridge is a first-class participant in CICS cloud scenarios. In addition, he will discuss how the forthcoming version of HostBridge will complement the new interface capabilities of CICS TS V5.1.
Attendees will have opportunities to submit questions and get answers during the webcast.
About HostBridge Technology
HostBridge Technology provides integration software for enterprises that rely on CICS and IBM System z. Our patented products deliver mainframe applications and data as XML/Web services, enabling organizations to modernize legacy applications with feature-rich Web interfaces, extend mainframe access to many new users, aggregate and automate complex transaction processes, and integrate mainframe assets with any other enterprise system or architecture. Founded in 2000, HostBridge Technology has built a reputation for solving the hardest integration problems and counts many of the largest organizations in the world among its loyal customers.
# # #
HostBridge and the HostBridge logo are registered trademarks of HostBridge Technology. CICS is a registered trademark of IBM. All other trademarks mentioned are property of their respective owners.